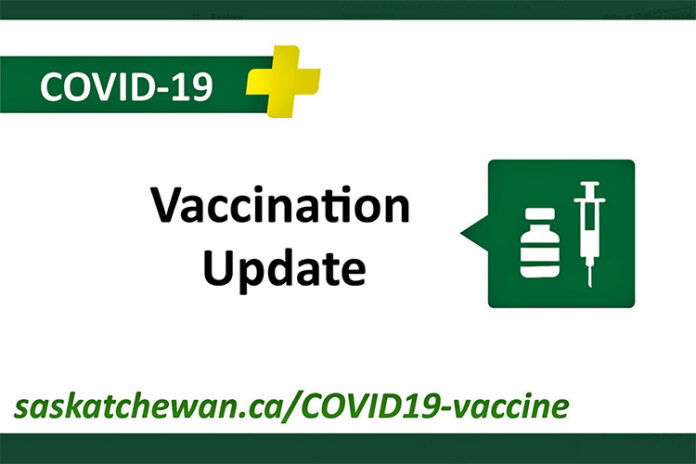 Swift Current's first no appointment necessary COVID-19 vaccination clinic will be offered starting at 8:30 a.m. on Friday for individuals 55 years of age and older.
The Saskatchewan Health Authority is scheduling five vaccination clinics in Swift Current on a first come, first served basis from Friday, April 2 to Tuesday, April 6.
Swift Current's inaugural Walk-In Clinic will be hosted on Friday, April 2 from 8:30 a.m. to 4 p.m. at #6 – 1061 Central Ave. N.
A pair of Drive-Thru Clinics will follow at 801 Cheadle St. W. on Saturday, April 3 and Sunday, April 4 from 8:30 a.m. to 6 p.m. The final two no appointment necessary clinics currently planned will be Walk-In Clinics held again from 8:30 a.m. to 4 p.m. on Monday, April 5 and Tuesday, April 6 at #6 – 1061 Central Ave. N.
The five clinics were announced earlier today in response to the anticipated arrival of over 45,000 doses of the AstroZeneca vaccine allocated from the United States, along with a shipment of approximately 55,000 doses expected to arrive between today and April 7.
"Anyone aged 55 and older can to one of those Drive-Thru or Walk-In Clinics and get your shot. All of these new clinics are first come, first served, so you may be waiting for a while… and it is certainly worth the wait," Saskatchewan Health Minister Paul Merriman said during a COVID-19 update earlier today.
"So if you are 55 and older this is a great option to get your vaccine right away. If you have already made an appointment you can still come through one of these Drive-Thru Clinics, we just ask that you cancel your appointment so we can allocate that to someone else."
Merriman noted that the pace of Saskatchewan's vaccine roll out continues to increase. Nearly 80 per cent of people 80 years and over, nearly 60 per cent of people in their 70s, along with nearly one quarter of people in their 60s have now received their first dose. The province has now delivered over 200,000 vaccine doses despite a slow beginning to the vaccination campaign.
"Because of the slow pace of vaccine deliveries in Saskatchewan to start the vaccine program, it took 89 days – from December 15 to March 13 – to deliver our first 100,000 shots. It took just 19 days to deliver the next 100,000 shots. And that pace is only going to increase in the days ahead."
The SHA will also be coordinating a Walk-In Clinic in Weyburn starting on Saturday, plus a Drive-Thru Clinic in North Battleford and Lloydminster on Sunday, followed by a Drive-Thru Clinic in Saskatoon starting Monday. Details of clinics in Moose Jaw, Yorkton and Prince Albert will be announced in the coming weeks.
"The road to the end of this pandemic goes right through those clinics," Merriman said.
Saskatchewan Chief Medical Health Officer Dr. Saqib Shahab added that during the province's second pandemic Easter Weekend, now is not the time to relax from the established Public Health orders.
"This is an Easter Weekend where we must take care, stay close to our home communities. If you do choose to attend worship services, look at virtual attendance options. Virtual is always safer than in person. Anywhere that you are able to go, if you have to go shopping or for other purposes, wear your best mask, maintain your physical distancing."
"It's important for all of us throughout Saskatchewan to take special care over this long weekend and school break."
Dr. Shahab also shared the importance of people getting vaccinated at their first possible opportunity.
"Please take advantage of those clinics and get the vaccine that is available to you as soon as you can. It starts protecting you in two to three weeks," he said.
"So obviously you still need to be careful after getting vaccinated, but within two weeks the vaccine starts protecting you."
CLINIC NOTES
The Walk-In Clinic will be on a first-come, first-served basis. No appointment is necessary, residents can attend at their convenience. ONLY those 55 years of age and older on the date of immunization will receive vaccine.
When attending the Walk-In Clinic you must follow all site signage and attendant directions. Masks must be worn at all times, even outside, and physical distancing must be practiced.
The Drive-Thru site will be on a first-come, first-served basis. ONLY those 55 years of age and older on the date of immunization will receive vaccine.
To ensure a positive experience for those eligible and minimize waits, please do not attend either clinic, unless you have been advised your age is eligible.
If you choose to access the Walk-In or Drive-Thru rather than keeping your booked appointment, ensure you cancel online. Visit www.saskatchewan.ca/covid19-vaccine and select 'Book or change my appointment.' You can cancel online even if you booked over the phone. You can also call 1-833-SASKVAX (1-833-727-5829) if you are unable to complete your request online.
Until most Saskatchewan residents are protected by the vaccine, you must continue following all public health orders and guidelines. COVID-19 is everywhere in Saskatchewan.
It is the responsibility of every person to strictly adhere to all public health orders and measures, including:
Keep two metres away from others when in public and wear a mask.
Limit gatherings and ensure gathering sizes do not exceed public health orders.
Wash your hands often with soap and water or use an alcohol-based hand sanitizer.
Do not touch your eyes, nose, mouth or mask with unwashed hands.
Stay home if you are unwell; seek health care services when you need help.
Regularly monitor your health for any COVID-19 symptoms and seek testing.
For more information on COVID-19, including vaccinations, visit saskatchewan.ca/COVID19.