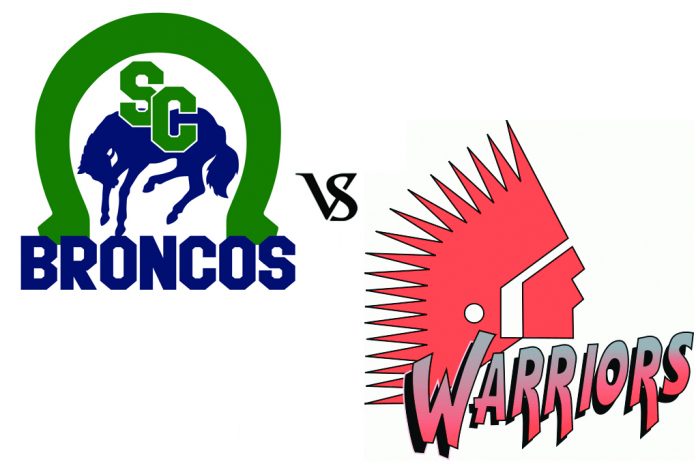 The Swift Current Broncos got goals from eight different skaters in an 8-5 win over the slumping Moose Jaw Warriors on Thursday afternoon. The Broncos snapped a two-game losing streak and the Warriors are now winless in six straight.
The Broncos led 4-2 after one period on goals from Eric Houk, Jordan Borysiuk, Caleb Wyrostock, and Kaleb Bulych. Jagger Firkus and Calder Anderson replied for the Warriors.
The Broncos lost the special teams battle in the second period as Daemon Hunt and Brad Ginnell scored on the power play and Atley Calvert scored while shorthanded to put the Warriors ahead 5-4. Rookie defenseman Owen Pickering responded for the Broncos with his first WHL goal with 20 seconds remaining in the period to tie the game.
Rookie Mathew Ward notched the game winner 3:14 into the third period when he beat the goaltender cleanly with a wrist shot to the blocker side.
Aiden Bulych added an insurance goal to complete a three-point outing and Michael Farren scored into an empty net, his team-leading seventh goal of the season, to complete his three-point outing.
Isaac Poulter made 18 saves to improve to 2-5-1-0 for the Broncos. Brett Mirwald dropped to 1-4-1-0 with 28 saves for the Warriors, who fell to 4-6-1-0.
The Broncos (3-7-1-0) will face the Prince Albert Raiders on Saturday at 8 p.m. The Broncos have a 1-0 record against the Raiders this season after a 5-2 win on March 22.
Bronco Bits: Overage forward Michael Farren now has 12 points over a six-game point streak. Ward, a rookie forward, has 11 points over his six-game point streak and leads the WHL with 13 assists in 11 games.