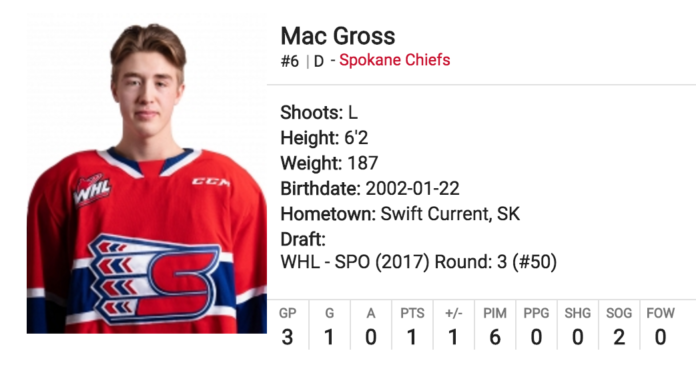 It was an eventful night for three Swift Current hockey players at the accesso ShoWare Center in Kent, Washington on Sunday in a meeting between the Spokane Chiefs and the Portland Winterhawks.
Mac Gross netted his first Western Hockey League goal in the third period to cut the Chiefs deficit to 4-2.
1:29 later, longtime teammate Reed Jacobson scored his first goal of the season to close the scoring in the Winterhawks' 4-3 win. He had assisted on Gross's goal during a two-point outing.
Swift Current's Ryan McCleary, playing his second WHL game for Portland, picked up an assist on the game's opening goal.
Gross, a 6'2'' defenseman, was drafted in the third round of the 2017 WHL Bantam Draft. He joined the Chiefs midway through last season and finished with one assist and six penalty minutes in 27 games.
Jacobson was a sixth round pick in 2017. He finished with four goals and seven assists in 50 games last season. He now has one goal and one assist in three games this season.
McCleary was a fifth round pick in 2018 and made his WHL debut on Saturday in Seattle.
In Lethbridge, defenseman Joe Arntsen notched one assist in the Hurricanes 7-4 loss to the visiting Calgary Hitmen. The Dinsmore native now has two assists in eight games during his sophomore season. The 6'3'' blueliner was a second round pick in 2018 and finished with three points, a plus-four rating, and 22 penalty minutes with the Hurricanes last season.