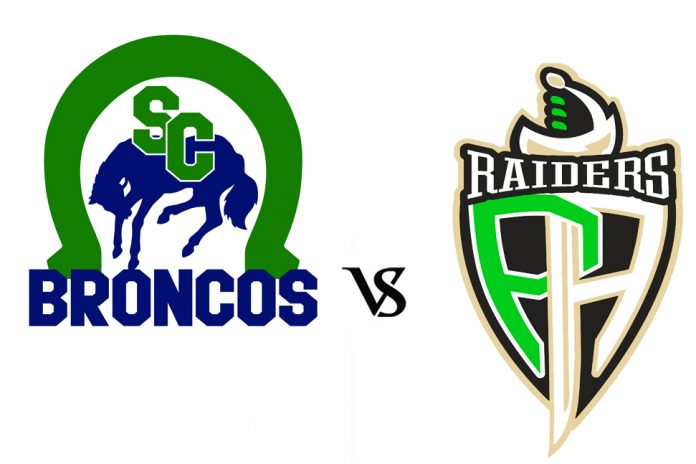 Carter Stebbings scored twice to lead the Swift Current Broncos to a 5-2 win over the Prince Albert Raiders on Monday afternoon for their first win of the 2020-21 Western Hockey League season.
The two teams combined for three goals in the first period as the Broncos emerged with a 2-1 lead. Raphael Pelletier scored on the power play 4:16 into regulation to give the Broncos the lead with his second goal of the campaign. The Raiders equalized 2:26 later when Ozzy Wiesblatt finished off a highlight reel solo effort. The Broncos regained the lead midway through the period as rookie Caleb Wyrostok batted home a puck out of midair for his first goal of the season.
The Broncos added to their lead in the second period when a pair of rookies notched their first career goals. Defenseman Devin Aubin joined into the rush late and beat Max Paddock with a wrist shot to the glove side 2:23 into the period to double the lead. Stebbings redirected a center feed late in the period to give the Broncos a 4-1 lead.
Justin Nachbaur scored for the Raiders early in the third period, but Stebbings responded midway through the period when he one-timed home a power play goal to close the scoring.
Reid Dyck earned his first win with 28 saves to improve to 1-1-0-0. Max Paddock fell to 2-2-0-0 with 25 saves.
Mathew Ward and Cole Nagy both finished with two assists, while Pelletier added an assist for a two-point outing.
The Broncos finished two-for-six on the power play and killed off both shorthanded situations.
The Broncos (1-5-0-0) will return to action on Wednesday when they face the Saskatoon Blades at 8 p.m. from the Subway Hub Centre in Regina.
Bronco Bits: 2020 first pick Brady Birnie made his WHL debut for the Broncos in his hometown rink. Birnie finished with 56 goals and 72 assists in 31 games with the Regina U15 AAA Monarchs last season. He registered four goals and one assist in seven games with the Regina U18 AAA Pat Canadians earlier this season. Rookie Josh Davies missed the game due to a one game suspension for his kneeing major and game misconduct against Moose Jaw on Saturday.