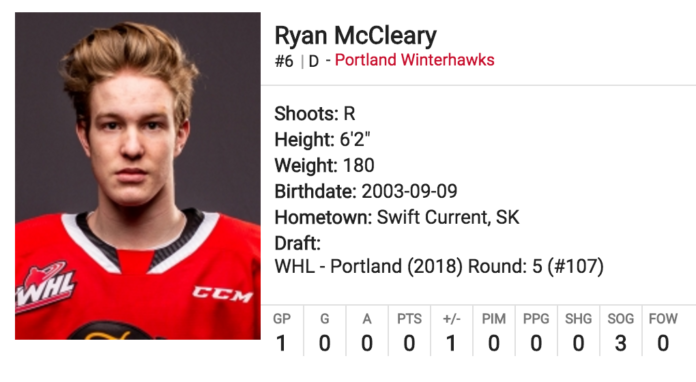 Ryan McCleary took another major stride in his hockey career on Saturday when he made his Western Hockey League debut with the Portland Winterhawks.
The 6'2'' defenseman had a plus-one rating and three shots on goal in a 4-1 victory over the host Seattle Thunderbirds. McCleary was a fifth round pick of the Winterhawks in the 2018 WHL Bantam Draft.
He registered five goals and 18 assists in 44 games with the Swift Current Home Hardware U18 AAA Legionnaires last season. He appeared in three games with the Yorkton Terriers in the Saskatchewan Junior Hockey League earlier this season.
Ryan McCleary is following in the footsteps of his father, Trent, who played for the Swift Current Broncos in parts of five seasons from 1988-93. He went on to play in the National Hockey League for the Ottawa Senators, Boston Bruins, and Montreal Canadiens and is currently the Chair of the Swift Current Broncos Board of Directors.