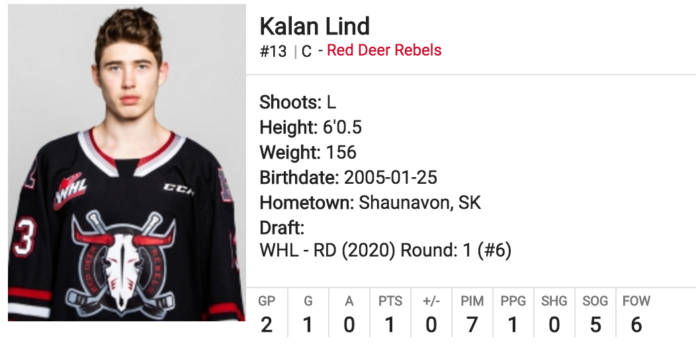 It was another memorable hockey milestone for Kalan Lind on Saturday. The Shaunavon product notched his first Western Hockey League goal and fight for the Red Rebels as an underage skater.
The sixth overall pick in the 2020 WHL Bantam Draft dropped the gloves with Edmonton's Jake Neighbours in the middle stanza and then tipped home a point shot for a power play goal in the third period of his second WHL game.
The Rebels lost the game 3-1 to fall to 2-4-2-0 as the Oil Kings improved to 5-0-0-0 to lead the WHL.
Lind began the season with the Saskatoon Contacts and was leading the Saskatchewan Male U18 AAA Hockey League with 14 points in six games. Last season, he compiled 68 goals and 52 assists with the Swift Current U15 AAA Broncos.