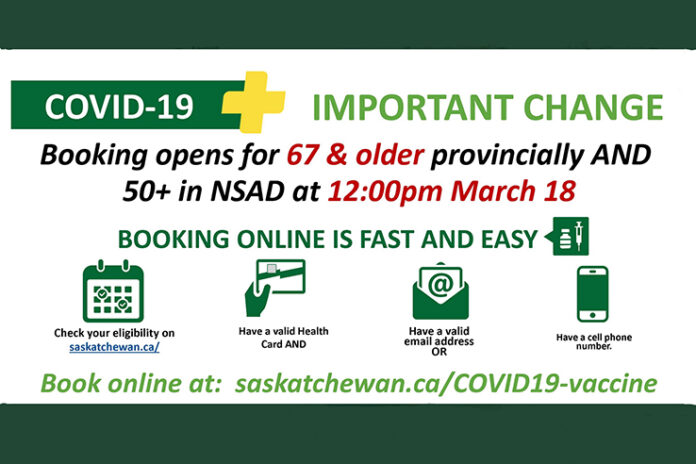 The province has taken the first steps in rolling out Phase Two of Saskatchewan's COVID-19 vaccination program, with residents in the under 70 years of age category being able to access the newly launched vaccination booking system for the first time as of March 18.
Saskatchewan residents aged 67 and older were able to book their COVID-19 vaccinations starting on March 18, and approximately 25,000 letters have been sent out to clinically extremely vulnerable individuals. Those receiving letters for a variety of medical conditions will be given special directions on how to book their appointments. Additionally, information is being shared with agencies operating congregate living settings, such as groups homes and emergency shelters, on how mobile clinics or booked appointment can be arranged to vaccinate those individuals. A complete list of clinically extremely vulnerable conditions is available at www.saskatchewan.ca/covid19.
Saskatchewan Health Minister Paul Merriman highlighted that 66,101 vaccinations had been delivered over the first seven days of Saskatchewan's vaccine appointment system. Vaccination clinics were able to deliver a one-day high of 5,430 vaccinations on March 17, including a single day record high of 1,900 vaccinations through a drive-thru clinic in Regina.
The first age group targeted in Phase Two will be the estimated 138,471 individuals in the 60 to 69 age group. The focus will then shift to the 50 to 59 age group which boasts an estimated population of 147,469 people.
Saskatchewan Health Authority CEO Scott Livingston said launching phase two of the vaccination campaign marks a significant milestone in the pandemic fight.
However, with quickly changing age groups becoming eligible for appointments, and clinics being slowed by the reliability of vaccine delivery, Livingston asked for the public's cooperation during the early days of the vaccine rollout.
"I'd like to ask for patience as we manage some of the ongoing change and aggressive timelines of an immunization program of this size and scope. Fast paced change does not always lend itself to clear communication," Livingston said.
Both the online saskatchewan.ca/covid19-vaccine booking system, along with the telephone booking system 1-833-SASKVAX (1-833-727-5829) between the hours of 8 a.m. and 11 p.m., will be open for booking additional appointments dependent on vaccine availability.
Saskatchewan's Chief Medical Health Officer, Dr. Saqib Shahab said the age-based vaccine delivery strategy and targeting individuals who are clinically extremely vulnerable will only be successful if people book appointments when their time comes.
"Eighty per cent plus uptake at a population level would be ideal. At a clinical level it protects you, your family, others close to you," Dr. Shahab said. "But at at a population level 80 per cent is what you want to aim for."
And while not everyone is booking appointments as soon as their age group is eligible, Dr. Shahab said it is not surprising that people are taking their time before booking into the system.
"We shouldn't worry too much about uptake in 10 year age groups initially because sometimes it takes some time for everyone to make up their mind and get vaccinated. But over time I think we do want to see a high uptake."
In the South West Zone there are nine communities where mass immunization clinics are being hosted (Cabri, Climax, Eastend, Frontier, Gull Lake, Leader, Maple Creek, Shaunavon and Swift Current), while Swift Current will also be hosting a drive-thru clinic in the coming weeks.
The South Central Zone there are 10 communities hosting mobile clinics, four locations where mass immunization clinics are being offered, plus one drive-thru clinic location in Moose Jaw. The nearest locations to the Southwest include mobile clinics in Hodgeville, Kincaid, Lafleche, Mankota, Ponteix and Vanguard, plus mass immunization clinics in Central Butte, Gravelbourg and Assiniboia.
Additionally, mass immunization clinics are offered in Beechy, Kyle and Lucky Lake which are part of the Central West Zone.