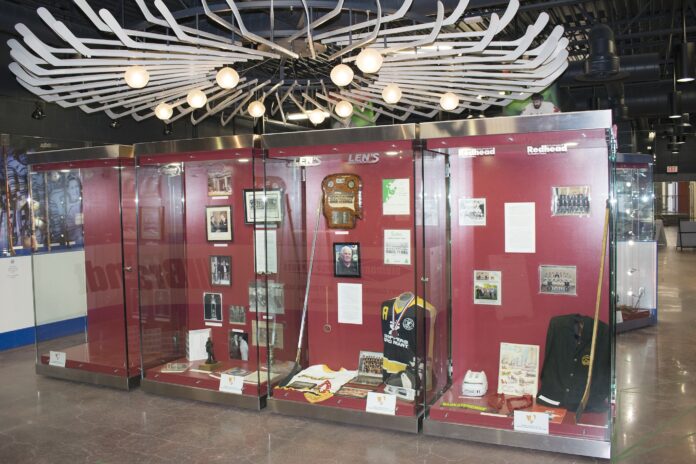 Visitors to the Ted Knight Saskatchewan Hockey Hall of Fame will have some new and fascinating pieces of hockey history to view after the Hall recently changed up their displays in Swift Current.
"There's a number of artefacts there that span certainly more than a century and a pretty wide array of hockey in the province, whether it be junior, the professional level, some grassroots things, senior hockey especially, going back to the early 20th century… The displays cover a pretty wide range of different levels and things in history, certainly womens' hockey is represented as well," explained Matthew Gourlie from the Saskatchewan Sports Hall of Fame
The 2019 induction class included players Murray Olmstead, Ferdinand Flaman, Keith Magnuson, Curtis Leschyshyn, Brian Skrudland, Edward Charles Van Impe; builders Murray Armstrong, Maxwell McNab, William Thon, and the Brodsky family; official Brad Watson; grassroots contributors Joe Bloski and Jim McIntyre; and the 2004-05 Saskatoon Contacts and the 1967 Saskatoon Centennials.
"There are displays honouring the people who were inducted into Hall of Fame that year, so that's also great to see as well with sort of a focus on those individual inductees."
The Ted Knight Hockey Hall of Fame is a satellite of the Saskatchewan Sports Hall of Fame.
"The chance for us at the Saskatchewan Sports Hall of Fame to get some of our artefacts out in the community, it's great that we're able to get some things on display in Swift Current. Obviously it is a bit of a hike from Regina so it's great to get things on display. We try and freshen up and rotate what's on display every three years. With COVID we are a little overdue with refreshing the exhibits, so we're happy to get that in and have it be available for display in Swift Current," said Gourlie.
A walk through the Hall of Fame is an intriguing trip through the rich history of hockey in Saskatchewan.
"There are sort of different themes in the different cases. I know that there is some old equipment from the twenties and thirties that sort have some of the history of how the equipment has evolved. There are some signed sticks as well.
"One thing that's in there that is really cool is a Regina Aces jersey. They are a senior men's team from the late 1930's that is a pretty cool jersey. It's one of my favourite jerseys in the collection, so it's nice that it's out there for people to see."
The memorabilia includes artefacts from the Western Hockey League, including the 1985 Memorial Cup champion Prince Albert Raiders.
"There's also a SJHL case that has some items that are on display. Brian Propp, who played in the NHL for a number of years, his Melville Millionaires jacket is in there. There's a few trophies as well, a couple programs and that kind of stuff."
Gourlie also noted that there are 16 sticks in one display that run from 1935 to 1997, representing junior hockey, local Saskatchewan teams, NHL players, and female hockey players.
A couple of older jerseys also stand out, a Melville Millionaires jersey and a Saskatoon Quakers jersey from the 1930's.
"There's a fair number of new things, interesting things to look at. Hopefully some things that people don't get a chance to see very often that cover a pretty wide breadth of hockey history in the province."
The Ted Knight Hall of Fame is open from 1-5 p.m. on Tuesday to Saturday and is located in the northwest corner of the Innovation Credit Union iplex. There is no cost to visit the Ted Knight Hockey Hall of Fame. COVID-19 protocols are in place, including sanitization, checking in with a name and phone number, and directional arrows while moving around.
"Normally we would have updated in the summer but we weren't able to do that this year. We are happy to get some stuff on display in Swift Current and hopefully get some people to come out and enjoy some of the artefacts. It's always nice to get our stuff out in the community, especially when it is difficult to travel or come see things in person as we would like these days," Gourlie concluded.