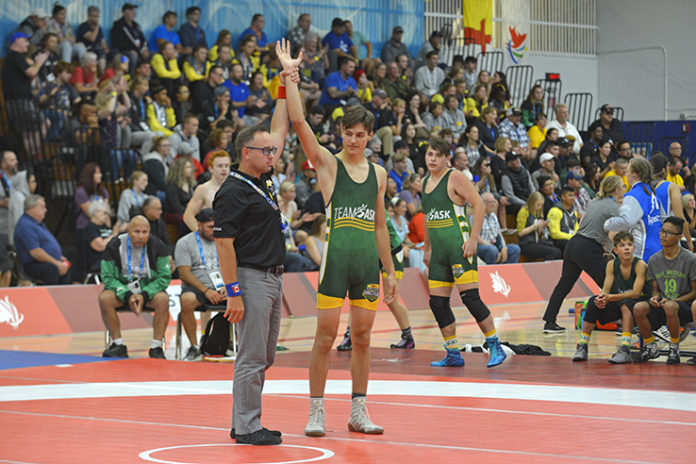 The dedication and ambition of an entire community was rewarded when Swift Current was named the recipient of the Saskatchewan Parks and Recreation Association 2019 Community Achievement Award.
"It's so exciting," said Nicole Spenst, Community Services Events and Program Manager for the City of Swift Current. "The one thing I truly admire about these programs is they are province-wide. The SPRA Community Achievement Award is really specific to Saskatchewan and the focus is on volunteers and the development of either recreation programs, events, projects, or parks that enhance the quality of life for a significant amount of people in the community and the area. So it's really a prestigious award in the province and I think for Swift Current to be recognized for the year that 2019 was is truly incredible."
Swift Current was singled out after hosting four major events in 2019 in addition to four other major annual events. The whirlwind year included the Scotiabank Hockey Day in Canada held Feb. 6-9, which had more than 100 volunteers; the Western Canada Summer Games, held Aug. 9-18 when 1,770 volunteers contributed over 50,000 volunteer hours; the Canadian Cowboy Association Finals Rodeo, held Oct. 16-19 with over 400 volunteers; and the World Under 17 Hockey Challenge held Oct. 31-Nov. 9, with over 150 volunteers.
"When you look at the 2019 year it truly was extraordinary in Swift Current. I think we do so many great things that go unrecognized anyway, that this is just a fact to showcase our community and what we do."
Spenst, like so many others involved, looks back on 2019 as a wild ride that went by in a flash.
"I think a wild ride is a great way to look at it when you look at the four major events that were hosted from the Hockey Day in Canada to the Western Canada Summer Games to the CCA Finals Rodeo, to the World Under-17 Hockey Challenge. But I also think it was a really humbling experience when you had the chance to sit back and look at what the true accomplishment was for the community, the pride that was showcased, and really these events can't happen without the community and the volunteers. We can talk about those four events, but I think what really brought me to that pride and sense of community feeling was the fact that not only did we run these main events, but we ran all those great, successful things that make our community one of the best places to live anyway. We still had the community support and volunteers to run the Windscape Kite Festival, the Long Days Night Music Festival, Market Square, the Powwow, Shakespeare in the Park, so all those exciting things still ran and our grassroots never suffered either. You still see all the kids playing baseball and football and hockey and all the coaches and the administrative work that goes in a year-to-year basis was still there. I felt that our community still got to see all those great things that happen, but the fact that they were able to put all the extra time, dedication, the work, the commitment, to make those four major events happen on top of that, I think that's a pretty incredible experience and something for me that is very humbling to have seen, but something that I think really showcases the amazing community that we are."
She has many found memories from 2019.
"I look at all those events and I can pick a highlight for each one. I had the opportunity to take my kids to the powwow in 2019 and it was absolutely incredible, they were so pumped and asking so many questions about cultures and I think it was really eye opening and incredible to have here in our community. For me for the Hockey Day in Canada was the weather and the fact that people came out and made it a successful event. When you look back at the footage from the event, to see the smiles on the peoples' faces you never would have know that it was a -40 day. Western Canada Summer Games, truly our community has never seen an event of that size. For me the magnitude of volunteers that came in, the commitment of community leaders and the volunteers that stepped up to be directors and co-chairs of the events and the amount of time they put in the three to five years leading up is incredible and I don't think a person can thank those individuals enough for that time and the commitment it took to put on those Games is truly incredible."
It is unlikely that Swift Current will experience a year quite like 2019 any time soon.
"2019 I think is one for the record books. It definitely was a wild ride with so many great experiences to put on the list of things that we were able to witness and see and do in our community. I definitely think as long as that community passion and pride stays there then there is an opportunity for more events. But I also think that it's crazy for me to fathom that we'll have another year like 2019. I really look forward to continuing to work with the community to ensure that all those day to day sport, culture, and recreational activities continue to happen and that those community events such as the Long Day's Night and the Market Square, and the Powwow and the Kite Festival and Shakespeare can all continue to happen in our community. We look forward to working with the community again if we get the opportunity to host some more larger scale events," said Spenst.
Spenst added that she appreciated all the contributions from Swift Current and the Southwest to make the whirlwind year a huge success.
"The tourists and visitors to Swift Current had a great place to eat and got to learn about the things that make our area great in Saskatchewan, the volunteers who put in one hour to cover a shift, to the volunteer who put in 400 hours, it really took a community and a team to make it happen."
The SPRA will be releasing an award video on Feb. 9 on its Facebook page and at https://www.spra.sk.ca/programs-services/awards/.