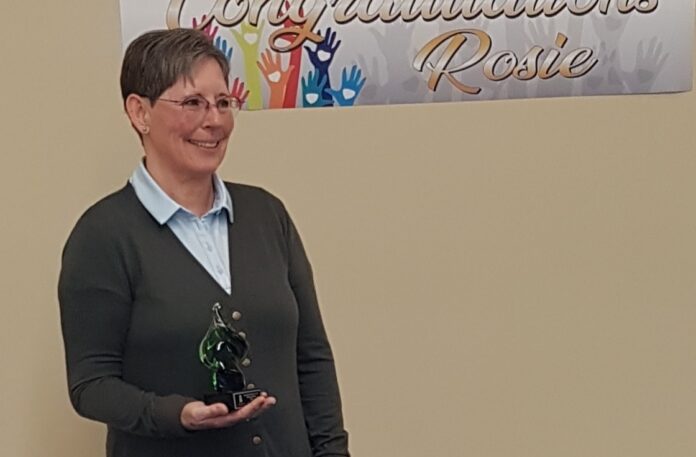 Decades worth of dedication and service to her community were recognized for Rosalie Flynn when she was recognized with the Saskatchewan Parks and Recreation Association Volunteer of the Year Award.
"It's just one word, overwhelmed I guess. It's always an honour to be recognized by your peers and to be recognized by the City for the things that I like to do is truly an honour," said Flynn.
Flynn retired from teaching 10 years ago, but has remained active in the community in a number of different capacities, including the 2016 World Women's Curling Championship as a co-chair of the Lounge Committee and the 2019 Western Canada Summer Games as a co-chair of the Uniform Distribution and Accreditation Centre.
"I think through my coaching with the school it was something that was always expected to give back to your community. Before I retired I wanted to work with fitness for older adults, so I just wanted to give back to the community and contribute to the community of Swift Current. When you're teaching you are volunteering within the school system and I never had time to be involved with the community. So that's what I really wanted to focus on when I retired was to get involved at the City and contribute in the City and their programs like Forever… in motion and sporting events like World Curling and the Western Canada Games."
Over the past four years, Flynn has been an integral part of the Forever… in motion program as both a leader and a facilitator.
"Forever… in motion was a program that was developed by the Saskatoon Health District to get older adults moving. The program is to prevent falls, which is one of the major injuries for older adults. So it's a program that was developed only in Saskatoon and then SPRA took it over and took it out to the whole province. The first time I saw it was at a retired teachers annual general meeting and I was really interested. I thought okay this is exactly what I wanted because it was one of my goals when I retired. I approached Val Choo-Foo at the City with Community Services to see if they would be interested in trying to get it set up here and she got the training going. The program has been running for about four years now," she explained.
Flynn was very active in the first two years of the program but has had to slow down after a hip replacement. "I did a little bit of teaching last year and that was just too much for my hip so I kind of stepped back."
She is also certified to train volunteers in the city and surrounding area and recently put on a training session and trained another eight volunteers. She was teaching once a week but due to her hip and COVID related concerns had to step back from those commitments.
Flynn taught at Irwin School for six years and then at the Swift Current Comprehensive High School for the next 24 years before retiring.
"That's one part I really enjoyed when I taught was mentoring interns and it's nice to have that extension and mentor people who want to be involved in the program as a volunteer. It's really rewarding to teach and help people that really want to be out there volunteering, especially in this program that is meant for older adults," she said of her current role.
Flynn also works with the retired teachers chapter at the local level, the Saskatchewan Senior Fitness Association as a member at large of the provincial executive, and helps the district with the Saskatchewan Senior Games, especially in the track and field area.
"Rosalie has been an instrumental volunteer in the community of Swift Current and in the province over the past 30 years. She has contributed her time and passion to ensure that all members of the community have the opportunity to benefit from recreational experiences and lead healthy lifestyles," said the SPRA announcement. "Rosalie is a strong supporter of recreation and the importance of living a healthy lifestyle at every age! She is always willing to help out, become involved, and build relationships to benefit others and the community. Swift Current is very blessed to have someone with such a strong volunteering background and passion!"
The SPRA will be releasing a video to recognize Flynn on February 16, which will be available to view on its Facebook page or at https://www.spra.sk.ca/programs-services/awards/.