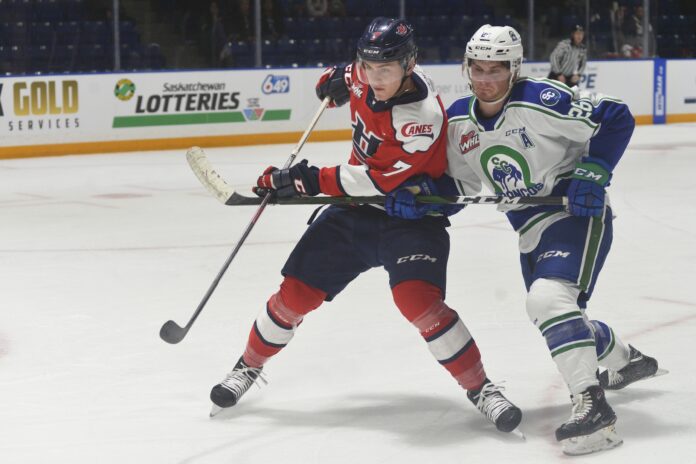 Facing a pivotal season in his hockey career, Joe Arntsen has been doing everything he can to stay on the ice. His season is currently on pause due to the escalating pandemic in Canada, but he was able to get a taste of game action in November with the Melville Millionaires in the Saskatchewan Junior Hockey League. 
After coming up through the Swift Current Minor Hockey system, the Dinsmore native made his Western Hockey League debut as a 15-year-old with the Lethbridge Hurricanes in two games during the 2018-19 season. Last season, the 6'2'', 198-pound blueliner stuck with the team full time and registered one goal, two assists, 22 penalty minutes, and a plus-four rating in 41 regular season games.
"It was a big year for me going in as a 16-year-old. We had a really good team. I didn't get to play a tonne, but taking a lot from guys like Calen Addison, who played in the World Juniors, Coltrane Wilson, and Ty Prefontaine, just learning from what they did and their game and hoping to use it this year to get in the lineup more and play a lot of minutes," said Arntsen.
After being drafted 35th overall in the 2018 WHL Bantam Draft, Arntsen played one season with the Swift Current Home Hardware Midget AAA Legionnaires before making the jump to the WHL.
"Probably speed was a big thing. Playing against guys that are four years older than you and have played a lot. Also the season itself, it's a long grind of a season, the bus trips, practicing, playing 68 games, is probably one of the biggest things," he said of the adjustment.
The Hurricanes sat fourth in the Eastern Conference with a 37-19-2-5 record when the 2019-20 season was cancelled due to the pandemic on March 12.
"We had started to slide there at the end, but I thought if we turned things around we could go really deep in the playoffs. Going up at 15 and watching the playoffs and not getting to experience that this year really sucked. We are probably going to lose some guys like Calen Addison and Dylan Cozens is going to hurt. It was tough to not get to make a push for the playoffs after the good year that we had. It really hurt."
"Once everything was shut down I just went back to Dinsmore and was at the farm just doing a Lethbridge program out of my house. Then once the gyms opened up I went to Saskatoon and spent most of my summer there, right up until school started, skating and training at Next Level Training. Once school started I went up to Lethbridge for awhile until we heard that we could go play and then I went to Melville."
With the WHL pushing back the start of the 2020-21 season on multiple occasions, the league eventually gave the go ahead for players to suit up for Junior A teams.
"A few of the guys said they were going to go play. I wanted to get out there and get some games in. It had been awhile and I thought, it being my draft year, I thought it would really benefit me to get out there and play top minutes and get a head start on the guys who can't play. I talked to my agent and the GM in Lethbridge and they both thought it would be a good idea to go there and play some games. It'd been a long offseason, so I thought it wouldn't hurt me. I went out there and had a really good time and really enjoyed it out there."
Despite being with a new team in a new league, there were plenty of familiar faces in Melville, including former minor hockey teammates Noah Wills and Rhett Evjen and Hurricanes goaltender Bryan Thomson.
The Millionaires also featured Prince Albert Raiders defenseman Landon Kosior and Portland Winterhawks' forwards Reece Newkirk and Jaydon Dureau, who were both drafted in the fifth round of the 2020 NHL Draft.
The Millionaires got out to a 4-2-0-0 record before the SJHL was put on pause until at least December 17.
"I really enjoyed it. There was some NHL prospects with Newkirk and Dureau. My goalie Bryan Thomson was there and Kosy from the Raiders was there too. It's a little different, not quite the same. But it was run by Mike Rooney, who I thought did a really good job, he's a scout in the NHL. That was another big reason why I wanted to go to Melville and play. He knows the game well. It was fun. He did a good job with us. We had a good team while I was there."
Arntsen's immediate hockey plans are back up in limbo as the COVID-19 pandemic shows no signs of easing up.
"Once we got shut down I came back home. I'm just going to hang out in Swift and get on the ice as much as I can and stay in the gym a lot. That's really all I can do right now. I can't go anywhere because it's not any better anywhere else, so I'm just going to be hanging around Swift Current."