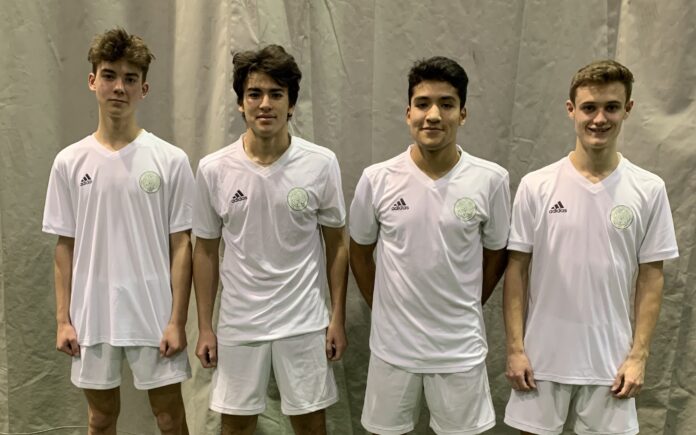 Four Swift Current soccer players have joined Moose Jaw Celtic in hopes of furthering their soccer careers.
The new program is a partnership between the Moose Jaw Soccer Association and Celtic FC of the Scottish Premier League.
Carter Munro, Dilan Vargas, Joel Reimer, and Khalil Fakhar have all been selected to train with Celtic in hopes of making the trip to Scotland for training and matches in the future. All four players are products of the Swift Current United and Swift Current Comp. Colts soccer programs.
Munro, 15, will suit up for the U17 team. He has been playing wing and midfield with Celtic so far.
"Swift didn't really have a team for my age group. I was looking to go a little further in the sport. We heard about this Celtic program and it seemed like a pretty good deal."
Munro said he hopes to improve as an all-around player during his time with Celtic.
"The coaching is awesome. I've made a lot of friends so far. Everybody is the same skill level pretty much. It's been awesome so far. I love it."
Prior to the recent sports shutdown, Munro was training once during the week in Moose Jaw and then travelled on Sunday for two sessions.
"I have to run at home a lot just to keep up with the kids there. They are long practices and when we go on Sundays it's three hours a day. You get pretty tired after the two practices, but it's pretty good. Drills I have never done before, really high speed, no water breaks. It's pretty good."
For Munro the goal is to play in Scotland next year and then to eventually earn a soccer scholarship.
Reimer, 17, has been playing right back for Celtic.
"I decided to join them because there's not really very many opportunities around Swift Current for more high level soccer. They said that we would get scouted and have a chance to play over in Europe. I noticed a lot of times when I was playing PSL for Queen City, there was never really scouts at the games. There's never any chances to get seen by other teams. Celtic offered me the opportunity to get scouted."
Reimer was also going into Moose Jaw twice a week to train.
"It was really good. The coaches were really welcoming and all the new players, I always felt welcomed. The practices were intense, but they were also fun, so a really good mixture of both getting things done and learning new skills and having fun at the same time."
Reimer has spent the past six years playing with Queen City United in the Provincial Soccer League against the province's top players.
"It was a big step up from United just with the intensity of everything. You would show up at practice and you would be right into drills, right into warm-up. There was never really any slacking allowed, just really high intensity. Then the games, the aggression of the other players, during my first couple games really caught me off guard. You would have to be running at full intensity all the time or else it wouldn't end up very well for you. It would take a lot of mental strain, you would always have to know what the next play was going to be. The quickness of everything too, if you held onto the ball for more than five or six seconds you'd be swarmed by the other team and wouldn't end up very well."
He said the early stages with Celtic have been a challenge as well.
"It was good. I would say it was maybe a tiny bit lower than when I was with QC. But as the season went on and more practices came it definitely went up as we got used to playing with each other because lots of players were coming in from other places and we had never played with each other. After a couple practices the level of play really increased to quite a high level."
Reimer is planning to attend university in Saskatchewan next year and would like to tryout for the Huskies if he ends up in Saskatoon.
Vargas, 17, has been playing fullback and central defensive midfield with Celtic.
"I saw the chance that it was more than just recreational soccer. It's something that you really have to work for and it's guiding me in the right path to become something else. With the outline that the program is giving me it's a good thing to follow and to hopefully continue on moving up."
The grade 12 student has relished his time with Celtic so far.
"It's honestly way more than what I thought it was going to be. There's a lot of guys coming from all over the place just to come and play for this team. It's just great to see all the guys come together and build such a team chemistry because it's something that I've never competed against. It's great that that competitive level was there to help me become a better player."
Players he once considered rivals while playing with the Colts in the Moose Jaw High School Soccer League are now his teammates.
"I've been playing with some of these guys from high school. It's great for me to have competition because it makes me work a lot harder. A lot of the guys we work to compete against each other to be the best. It's put me in a great spot. It's built a great relationship with everyone."
Vargas grew up in Bogotá, Columbia before moving to Swift Current at the age of nine.
"Hopefully to make it pro," he said of his goals in soccer. "That's a dream that I've been carrying along since I was a little kid. But at least making it to a high level of soccer would be great for me. I am obviously aiming for more, but I have to take little steps to get to the top."
Fakhar, 17, moved to Moose Jaw prior to the school year and is playing midfield with Celtic.
"What took me there was I was speaking with the coach before the program happened. He told me there was going to be a lot of practice and a lot of games and that we might also have the chance to go to Europe, so I worked hard and decided that I wanted to come to the Celtic program."
Fakhar has enjoyed his time in Moose Jaw so far.
"It's very intense. I really like it. It's looking more like a professional team. We've been practicing almost every day, just Friday and Saturday off. Every other day we are practicing. It's very intense and very hard," he added
The Celtic players are hoping to be back training soon, but for now are on a break due to COVID-19.
"Personally, for me I always want to improve. There's always something to improve. You can never be perfect. So every day I am working harder, trying to improve speed, agility, head up when I get the ball. Those things can always improve."
Fakhar grew up in Tunisia where he developed his love of soccer before moving to Swift Current at the age of 10.
"My long term goal is to play professional in Europe. That's the biggest goal. Working hard always. We might go to Scotland if hopefully Corona virus ends. There is the big shot, you try to show your stuff to the people and their best and then we'll see what happens."