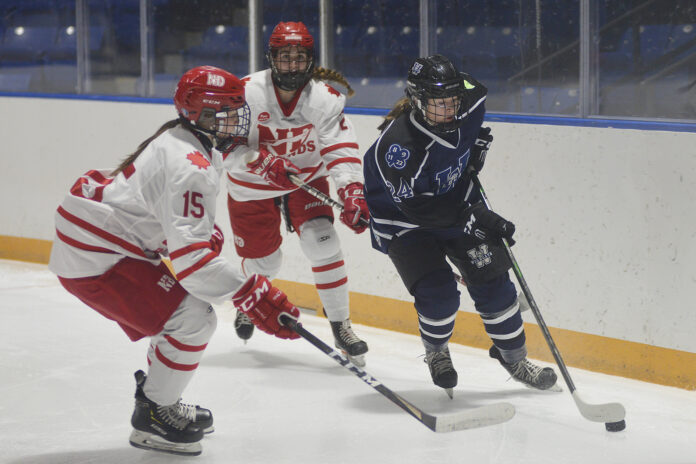 The shorthanded Swift Current Innovation Credit Union Wildcats battled their way to a weekend split with the Notre Dame Hounds in the Saskatchewan Female U18 AAA Hockey League over the weekend.
Saturday, the Wildcats lost 4-2 at home after allowing three unanswered goals in the third period. Special teams played a factor as the Rebels were afforded eight power play opportunities and scored twice, while the Wildcats connected on one of two man-advantages.
Calli Arnold scored twice to give the Wildcats a pair of leads. Baylee Kirwan, Tess Bakus, and Kamryn Johnson all added assists. Amaya Giraudier took the loss with 23 saves on 27 shots.
Kayla Bailey earned the win with 15 saves. Ryann Perrett scored twice for the Hounds, while Amy MacDonald and Emma Thomas also found the back of the net.
Sunday, the Wildcats, still without three regulars, fell behind 2-0 in the first period before scoring five of the final six goals over the last 30:37 of the game in a 5-3 road win to upend the previously unbeaten Hounds.
Captain Baylee Kirwan led the Wildcats with two goals and one assist. Johnson and Ava Metzger registered a goal and an assist each, while Sadie Keller and Arnold each had two-assist outings.
Jessica Bouffard also scored, while Jerzey Watteyne, Samantha Thompson, and Laiken Swan added assists. Aurora Van Wormer made 26 saves on 29 shots in her SFU18AAAHL debut.
Thomas, Ellie Gauvin, and Olivia Leier replied for the Hounds. Bailey Lindsay made 18 saves in the loss.
The Wildcats improved to 2-2-0-1, while the Hounds fell to 3-1-0-0.
The U18 Wildcats will return to action on Dec. 5 when they visit the Weyburn Wings (0-5-0-0). The Wildcats will host the Wings the following day at 4:15 p.m. at the Innovation Credit Union iplex.