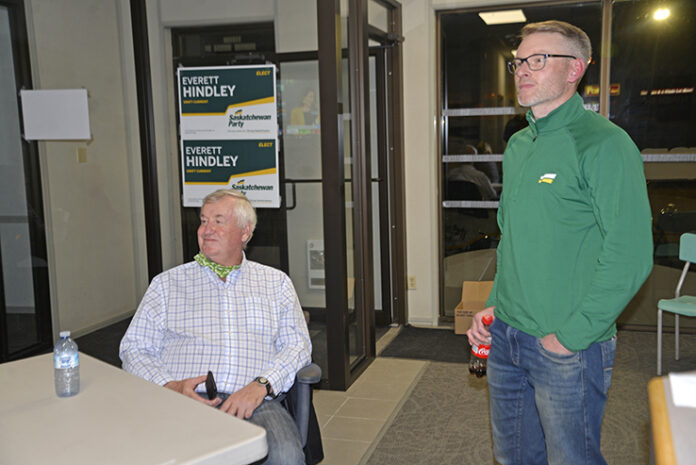 Despite the challenges of a difficult campaign in the midst of a pandemic, the Saskatchewan Party rolled to their fourth consecutive majority government with an emphatic election win on October 26.
Monday's election results, which will not be finalized until the vote by mail ballots are counted, resulted in the Saskatchewan Party and Premier Scott Moe winning 48 seats compared to the 13 seats collected by the Saskatchewan New Democrats and leader Ryan Meili.
Swift Current MLA Everett Hindley was re-elected with a commanding 2,432 votes, compared to 587 earned by NDP candidate Stefan Rumpel and 69 ballots cast for Green Party candidate George Watson.
"It's a bit of a relief. This has been the third time in three years for me, between a nomination meeting and a by-election a couple of years ago, and now this one. So I think I'm campaigned out for the next little while. It is nice to have been re-elected," Hindley noted during a small COVID restricted gathering at his campaign office.
It was a different type of campaign because of the COVID-19 pandemic, but Hindley said the focal point of the entire campaign was who would provide the best leadership to help Saskatchewan negotiate through the uncertainty of the pandemic.
"That was the key message I think. It was a choice between the two main political parties as to which of these parties is best suited to lead the province through the pandemic and help recover the economy, and I think we've seen the results here loud and clear tonight in Swift Current and across Saskatchewan."
"I think it's stability that people are looking for. And I think it's a reassurance from the people of the province and here in Swift Current that the government is on the right track. In order for the government to change, the people not only have to be dissatisfied with the policies and the leadership of the current government, but they also have to be comfortable with what the opposition is proposing."
Hindley said a series of campaign promises offered by the Saskatchewan Party will have an impact in taking steps to foster some economic improvements at a local level.
"I think there's probably a few there. The initiatives announced in the campaign are province wide, they're meant to benefit people in all corners of Saskatchewan. But here, for example, you know I think the Home Renovation Tax Credit will be beneficial to people, not only to home owners that are looking to perhaps you know do some renovations to their homes, but also to the local construction industry, the contractors here."
"I think the one that will also help is the campaign commitment to help seniors by reducing ambulance fees for them. That's another one I think. We have a lot of senior citizens in Swift Current and I was hearing that as the MLA as well."
"The 10 percent reduction, one year reduction in power bills will definitely help I think. That will help people provide a bit of a break during these difficult COVID times. That's another one that I think will benefit people as well. There's the Saskatchewan scholarship, the Advantage Scholarship that was up as well and the temporary reduction in the small business tax rate. Again, as I was campaigning and talking to small businesses and entrepreneurs throughout Swift Current they were talking about they managed to sort of figure this out and adapt and adjust their business, more online sales versus face-to-face people coming in their store because of the restrictions. But they'll appreciate the, and I know they've told me so, they'll appreciate the opportunity to have a bit of a break and every little bit counts. So I think between those are some of the key ones for this particular area, but I think there's a lot there that will benefit the people of Swift Current."
Swift Current NDP candidate Stefan Rumpel provided a statement regarding the election results.
"I'm proud to have stood with Ryan Meili and the NDP team through this election. Our plan to put people first is something any government should be happy to take some ideas from. Although we may not have been successful in winning in Swift Current tonight, I am so proud of the work we did here."
"Final results for seats may take awhile yet but the initial indications are that our party has seen positive gains. This campaign has shown what New Democrats want to bring for people and sets us up well for future elections."