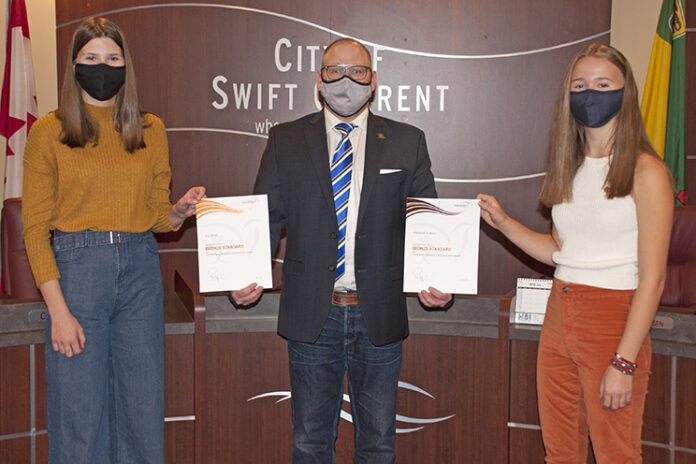 Dedicated efforts in four challenging areas allowed Eve and Alexandria Boss to achieve the bronze level of The Duke of Edinburgh's International Award.
Participants in the youth achievement program are tasked with challenging themselves in the areas of community service, skill development, physical recreation, plus taking an adventurous journey. Open to individuals 14 to 24 years of age, the self-guided program requires bronze level recipients to average one hour per week for 13 weeks in the areas of voluntary service, skills and physical recreation. The Adventurous Journey must extend two days and one night, with six hours of purposeful effort each day.
The Boss sisters were presented their awards by Swift Current Mayor Denis Perrault on October 7.
Both Alexandria and Eve said that their success in the program stemmed from their tackling activities they were already doing and things they enjoyed.
"We saw this as a good opportunity to kind of explore what we were already doing, and a good way to contribute to our community with volunteer time," said Eve, who is a Grade 12 student at the Swift Current Comprehensive High School.
Both earned volunteer hours through the Best Buddies program at SCCHS, by volunteering during the 2019 Western Canada Summer Games, earning a chance to be a Torch Bearer in the days leading up to the Games, while also volunteering at the City of Swift Current Dog Park.
"It's just a really good program if you want to kind of get in the groove of volunteering around and maybe improving your skill set in different areas. This program is fantastic if you want to improve in those areas," noted Alexandria, who is a Grade 11 student at SCCHS.
Both winners admitted that the effort to achieve the award sometimes pushed them out of their comfort zone.
Despite never participating in the sport before, Eve joined the SCCHS Archery Club as one of her areas of physical recreation.
"I found that I really enjoyed it after working on it for several weeks. So that was a challenge at first but I learned to really appreciate and love the sport."
Alexandra sought to improve her skills as a musician through the SCCHS band program.
"My biggest challenge was for my music I joined the more senior bands to help improve my skill set and learn more with that."
Provincial organizers of The Duke of Edinburgh's International Award ultimately hope to have the program operating in every high school in the province. Currently there are over 200 youth pursing the various levels of the award.
Both sisters agreed the pursuit of the award is worthwhile, and passed on some advice for others who might be interested in working towards this goal.
"Probably to keep up a regular schedule, keep on track, make sure you're doing those hours. And have fun with it," Alexandria said.
"And do what you love. I find its a lot easier to do anything when you like doing it in the first place. So we kind of explored what we already liked to do as hobbies and around the community, and expanded on that," Eve added.
For more information about the Award visit www.dukeofed.org.