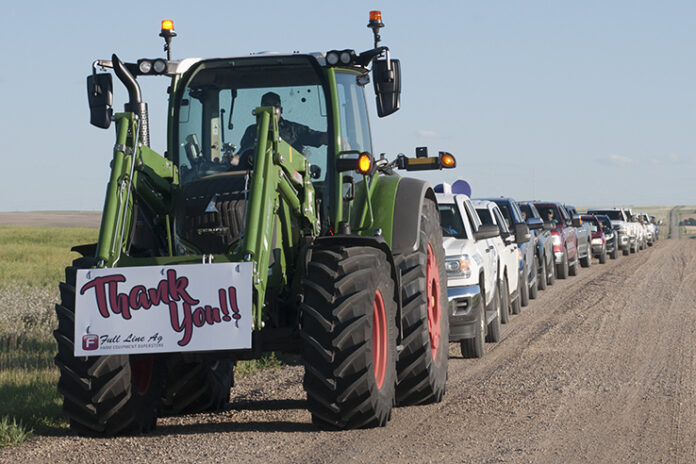 A convoy of over 30 vehicles participated in a drive-thru parade of the Swift Current Hutterite Colony on Tuesday evening.
The vehicle parade was a show of support for the Hutterian communities who are feeling the impacts of the COVID-19 pandemic. The event drew support from businesses, organizations and representatives from the City of Swift Current and the RM of Swift Current.
Event organizer Scott Lamb was pleased with the support shown for this short notice salute.
"There were a lot of businesses that said they couldn't be here because they didn't have the manpower, but there were lots of businesses that showed up with two trucks. The support was actually overwhelming," he said moments after the parade concluded.
Lamb, who noted the idea for the drive by parade came from Chance Kantrud, knows the show of support was appreciated by the Colony members.
"The smiles in the yard were pretty unreal," Lamb grinned.
He said that while many Hutterian communities are being stigmatized in the midst of rising COVID-19 numbers, he pointed out the often unseen impact the Colonies have in the communities they call home.
"While we all have to be careful in this day and age with this pandemic, we also have to remember who the first people are to fill Food Banks, support Health Regions, support neighbours during fires."
He recalled that members of the Swift Current Colony saved his house from burning down a number of years ago. There was a vehicle parked near his house which caught fire, and colony members got the fire partially under control before the RM Fire Department arrived.
"Without neighbours like that my life would be substantially different."
"They're my neighbours. They're sometimes my tire shop after hours when I can't get a tire fixed. They're the ones that come and help when I need manpower."
"It doesn't matter what colony, when they're part of your community they're there for everything."
Lamb is hoping their driving parade will inspire similar efforts in communities near colonies across Western Canada.
"This isn't about just singling out Swift Current Colony, this is about all Colonies and thanking them for being a cornerstone of their communities."
He added that Colonies have a significant financial impact in their home communities through the purchase of food, equipment, chemicals, building supplies and other necessities. Additionally, colony residents are true neighbours.
"They wave at you. They smile. They'll talk over the fence if you share a fence line together. They might dress different, but they're true blooded Canadians like the rest of us. They care about this country and they care about the community they live in. We wish them the best in getting over COVID and none of us can wait until it's all over and get back to normal life."