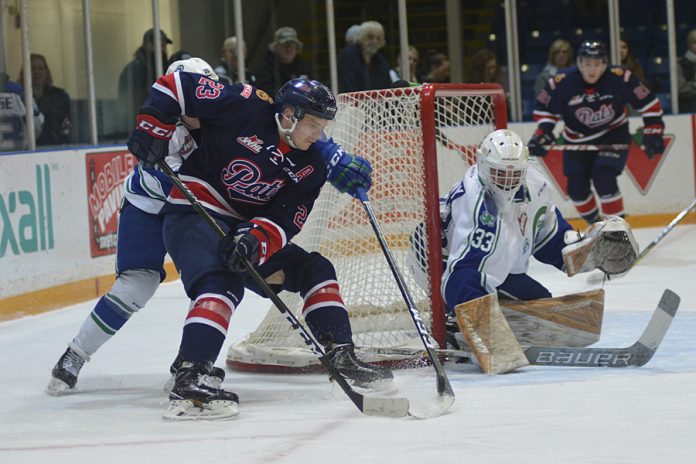 In a game filled with controversial calls, the final two disputed decisions went against the Swift Current Broncos in a 6-5 loss to the Regina Pats Saturday.
The Broncos put up a determined effort while falling to 0-3 against the top ranked team in the county. They fought back from three deficits to lead 5-4 heading into the final period before allowing two unanswered goals.
Dawson Leedahl tied the game in the third period with a power play goal after Tyler Steenbergen was whistled for checking from behind on a hit that appeared no different than numerous other hits throughout the contest. Connor Hobbs fired home the game winner shortly after on a play that appeared to be offside to 2,177 fans at the Credit Union iplex.
The third-period goals erased an outstanding second period that saw the Broncos score three goals to take their second lead of the game. Glenn Gawdin scored twice in the period and finished the game with four points. Aleksi Heponiemi also scored twice, while rookie Riley Stotts also scored.
Josh Mahura, Chase Harrison, and Jake Leschyshyn also scored for Regina, who improved to 30-6-6-1. The Pats finished three-for-four on the power play as the Broncos' league worst penalty killing unit dipped to 72.5 percent. The scored twice on five man-advantages.
Neither goaltender was at their best. Jordan Hollet made 23 saves on 28 shots in the win. Jordan Papirny took the loss with 29 saves on 35 shots to fall to 1-3-0-1 since being acquired at the trade deadline.
The Broncos have now lost four of their last five games as they dropped to 25-15-3-5. They will visit the Saskatoon Blades on Sunday.