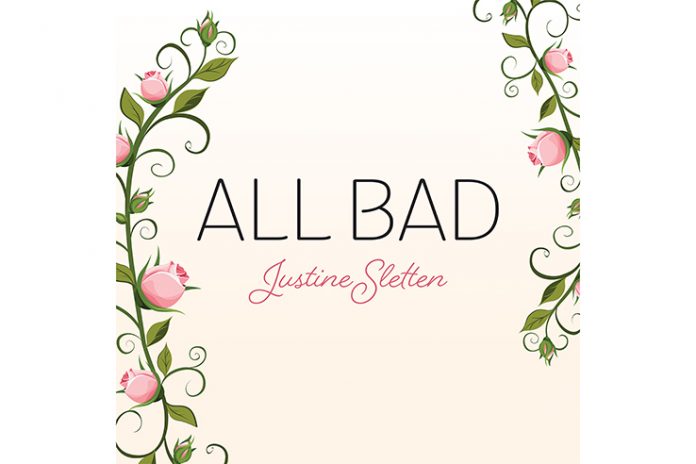 The countdown is almost over for the release of Justine Sletten's newest single, All Bad.
The 19-year-old from Hazlet admits she can't wait for Friday when her newest single is released on streaming audio sites. This past week she hosted a Facebook Live concert where she shared an acoustic version of All Bad.
"It was definitely an interesting experience because I've never done a Facebook Live before. It was a new experience and I thought that it would be a good idea just to get people excited for my new song. So I thought that that would be the best way to get people's attention. It worked out pretty well," she said during a phone interview a week before the launch of her single.
Followers on her Facebook account have been treated to a daily countdown of the days before her single release. The countdown features fun videos from friends and fans which she is hoping will get people engaged and help hype the release.
"I had the idea to start this little campaign to get people to send me videos about why quarantine isn't all bad, since that's the song."
Sletten, who has not released a recording since the EP Groundbreaking in July 2017, feels that even in the midst of the current COVID-19 pandemic, now is a good time to release her material.
"Somebody brought to my attention the fact that people are sitting at home doing nothing right now. They're just looking for something new. So releasing new music right now will probably get more attention. That's the hope. We'll see."
This single release also marks the first time Sletten has recorded a song written by another musician. She listened to a series of songs with country music producer Bart McKay before settling on All Bad.
"The first time I heard it, it caught my attention and I knew that this was a song that I would really enjoy recording," she said.
"When you write a song you automatically are connected to it and you know the story line. You don't have to go searching for the story and know what the singer is feeling. This was a new experience for me when I decided to record someone else's song. I kind of had to take a step back, pick it apart, and put myself in the writers shoes and see what the emotion behind it is. So it was a really good experience."
The demo was a 'tame' version of the material, but she and McKay talked about it and wanted to bring the song to life a little more.
"I'd like to say that my genre is pop/country, so I would say this song is more leaning to the pop side."
"It does still have a little bit of a country feel to it, but I definitely think it leans towards more of the pop side."
She admitted that the downside of releasing music right now is she will not have an immediate chance to perform live in front of fans.
"I think the biggest effect would be that I don't perform live anymore, which is normally the main thing I would do with this because its been a while since I've released music."
"As of right now I would say that performing is not looking like it's going to be anywhere in the near future. So I haven't really been thinking about that a lot. But I would say my main goal with this single would be to get my name out on the radio more, because when I released Groundbreaking I got a good amount of radio play for my first single. So now I'm hoping that people know my name a little bit, but now I'm hoping to extend my area out of Saskatchewan. And also just to create some buzz on my name in general, as Im hoping to release another single within the next couple of months."
She is also hoping to recapture some of that momentum after having Groundbreaking place in the top 10 country albums on iTunes for a trio of days, and earning a long list of competition wins including the Saskatoon Country Music Association Youth Star Search, the Medicine Hat Stampede Summer Star, the Deja Vu Songwriters Competition, the 2018 Living Skies Teen Vocalist of the Year, along with capturing the Singer-Songwriter category at the SaskTel Search For the Stars earlier this year.
She invites fans to listen to her music and connect with her on social media via her website justinesletten.com, on Facebook (facebook.com/JustineSlettenmusic), through her Instagram account (www.instagram.com/justinesletten_) or on Twitter (@JustineSletten).