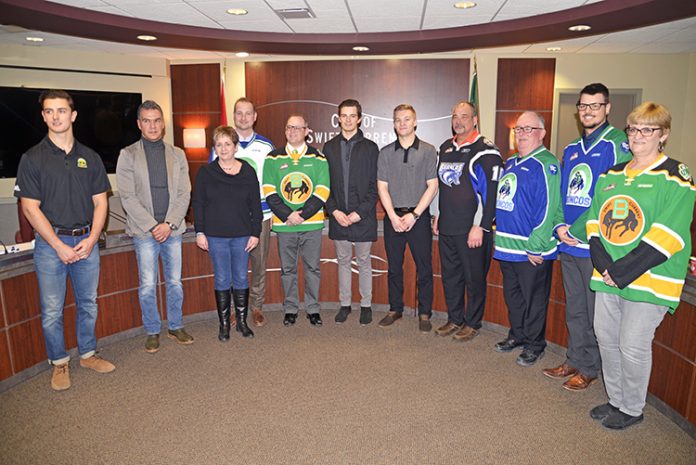 Bronco Blue was proudly on display during the Swift Current City Council meeting on January 16.
All council members and administration around the council table were decked out in a selection of Bronco jerseys in recognition of their invited delegation of Swift Current Bronco representatives.
The Bronco delegation was in attendance in celebration of the 50th anniversary of the Broncos franchise, but council also made a strong message of support in encouraging more fans to get out to games.
"If you haven't come out to a game yet this year, now is the time!" Swift Current Mayor Denis Perrault said.
"It's a great chance to get out. If you've got kids, please bring them. Come out to the rink. Let's try and Pack the Plex leading up to the post season. I truly think it's one of our most exciting years of hockey."
The Broncos have jumped out to a 25-13-3-5 record as they approach the two-third mark of their schedule. Swift Current is in the midst of a tight three-team race in the East Division, sitting one point back of the Moose Jaw Warriors and seven behind the Canadian Hockey League top ranked Regina Pats.
However, the exciting product on the ice has not translated into a bump in lagging attendance numbers.
Attendance at Bronco games has averaged 1,904 fans over their first 25 games (47,616 total attendance), and they have just 11 home regular season games remaining. Game day attendance has surpassed the 2,000 mark just six times so far this season, and their season single game best attendance occurred on December 27 when 2,342 fans turned out for the post-Christmas contest. There was also good attendance at the December 30 game, when the Broncos earned a 3-2 overtime win over Saskatoon in front of 2,234 fans. Offsetting those strongly attended games have been seven games with attendance below 1,800 fans, with a season low 1,647 during a stormy January 11.
"There is a bit of a misconception…that people think that our attendance has been great, the team is playing great, there's so much excitement. But our attendance is down," noted Broncos Director of Business Operations Dianne Sletten.
The Broncos are anticipating the post-trade deadline excitement around the team, and the potential of an extended playoff run, will result in an increased attendance.
"We want people to come out. It is the best hockey, I agree, that we've seen in years. It's so much fun at the rink," Sletten said. "People are really enjoying it. And if you're not coming, you're missing out a lot."
The player delegation during the council meeting featured Broncos captain Glenn Gawdin, and the recently acquired overage tandem of former Lethbridge forward Ryley Lindgren and standout Brandon net minder Jordan Papirny.
Both of the new 20-year-olds are anxiously looking forward to the stretch run of the season and helping the Broncos make some noise in the playoffs.
"Its been awesome. Everyone's been very welcoming. And you can tell the hockey community here is unbelievable. Everyone's very passionate about the Swift Current Broncos," Papirny explained to council.
"I'm super excited to be here and win hockey games…and making a good playoff push," added Lindgren.
First-year Broncos coach Manny Viveiros commented that the players acquired at the WHL trade deadline add key pieces to the team.
Papirny, who was acquired at the trade deadline from the Wheat Kings, had a 16-5 playoff goaltending record as Brandon powered their way to the WHL Championship.
"Jordan brings an incredible amount of experience and success in the Western Hockey League, obviously winning last year with the Brandon Wheat Kings the Western Hockey League championship, so we're very excited to have him with us," Viveiros said.
Lindgren was added from Lethbridge after posting 42 points in 42 games with the Hurricanes, and since joining the Broncos he has scored once and collected two points in four games.
"Riley is a young man that we had our radar on all year long here possibly to get him to our hockey club, and we're very happy to have him with us," Viveiros said.
City council members all shared their messages of support for the team and hopes fans will get behind the Broncos during their upcoming games.
Councillor George Bowditch, who attended the inaugural Broncos game 50 years ago, has been a lifelong fan of the team and assists as a game day volunteer.
He said fans have been treated to legendary players like Sakic, Trottier, and Williams, but also the WHL talents who have sat on the visitors bench who have gone on to notable NHL careers.
"You guys are just awesome. You've got great, exciting hockey," Bowditch said. "The buzz is there this year. Now we just have to get one or two more bodies in the seats."
Councillor Pat Friesen said the community, and entire Southwest, takes pride in the fact the Broncos are the smallest market Canadian Hockey League team.
"That's something I think we all need to take a lot of pride in is that we've managed to keep a team of this calibre in this community and the Southwest all these years."
She also encouraged fans to get out to an upcoming game.
"I'm sure that once they go to a couple of games they'll be back."
Sletten pointed out there are numerous ticket packages available for fans to be a part of Bronco nation during upcoming games. There are also pro-rated season tickets, which includes tickets to the first two playoff games, so fans don't miss any of the exciting action.
"I think this is just the ideal time to get one because it's going to be an exciting finish and it's just going to be awesome."
There are currently only 11 home regular season games remaining, and seven of those games are on weekends. The club will be on the ice during four Saturday games, a pair of Friday contests, and one Sunday game. There are also a trio of Wednesday night games, and one Tuesday game.
The Broncos are next on home ice this Saturday, January 21 versus the Regina Pats, currently the top ranked team in Canada.
Swift Current then gears up for an important three-game home stand: Sunday, January 29 versus Prince Albert; Wednesday, February 1 versus Edmonton; and Saturday, February 4 versus Brandon.
The final stretch of home games includes:
Wednesday, February 15 vs Regina
Friday, February 17 vs Medicine Hat
Saturday, February 18 vs Everett
Tuesday, February 28 vs Brandon
Wednesday, March 8 versus Regina
Saturday, March 11 versus Saskatoon
Friday, March 17 versus Moose Jaw
Swift Current has to make their March playoff push primarily on the road, playing just three of their final 10 games at home.
Home game tickets are available online, by phoning the Bronco Stable at 306-773-1509, or stopping down at their office at the Credit Union iPlex from 9 a.m. to 5 p.m. on game days, and 9 a.m. to noon and 1 p.m. to 5 p.m. during weekdays.