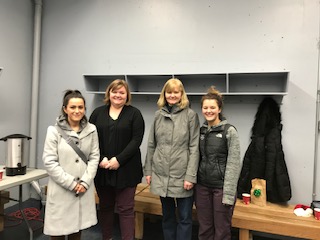 It will surely be a world of pure imagination – and athleticism – this weekend, as Swift Current Skating Club brings to life the famed Roald Dahl classic, Charlie and the Chocolate Factory.
"The three [Swift Current Skating Club] coaches, myself, Shaila Humphrey, and Jenna Reimer, brainstormed and came up with it [the theme]," explained Dorothy Gillis, one of the Club's professional figure skating coaches.
"In recalling themes from past and liking the idea of a story, Charlie and the Chocolate Factory was mentioned. After discussing the group ideas, and how fun it would be to portray it onto the ice, it was decided to go forward with it."
Audience members are in for a treat – and not just one that's made in a chocolate factory, said Gillis. "Spectators will be see an afternoon of fantasy as SCSC skaters depict the story. Skaters range from 3-17 years old from Pre-Can[skate] skaters to Senior STAR and Competitive skaters who have represented Saskatchewan nationally."
As has been the case for the past number of years, attendees will see a high-flying pair of guest skaters.
"The Novice level pair team of Ashlyn Schmitz and Tristan Taylor from Shellbrook and Regina Skating Clubs, will be performing. Pair skating is dynamic and exciting to watch," commented Gillis.
"This pair will not disappoint. They are the Skate Canada – SK 2020 Novice Champions, Challenge 2020 Novice Champions, Canadian 2020 Novice Silver Medalists, as well as Silver Medalists from The North American Cup last summer. They are both accomplished single skaters as well."
Swift Current Skating Club presents Charlie and the Chocolate Factory Ice Show 2020 will take place Sunday, March 15 at the Innovation Credit Union. Gillis says she hopes the community will come out to support the young generation of athletes.
"Skating is our passion, and we are pleased to show it off to the public in an entertaining way," said Gillis, who's been a professional coach for a number of years, and whose own family is still involved in the programming offered by the Skating Club.
"The skaters have worked hard and are excited to show their moms, dads, grandpas, grandmas, uncles, aunts, and friends all they learned. Everyone will be entertained by the skaters who are part of the whimsical Willy Wonka, Charlie Bucket and all of the silly characters of the Story of Charlie and The Chocolate Factory."
Showtime is 2 p.m., with admission at the door set at $5 for adults, $2 for students (ages 11-18). Children 10 years of age and under are free.
***UPDATE*** The SCSC announced on Friday that the ice show has been postponed due to concerns regarding COVID-19.