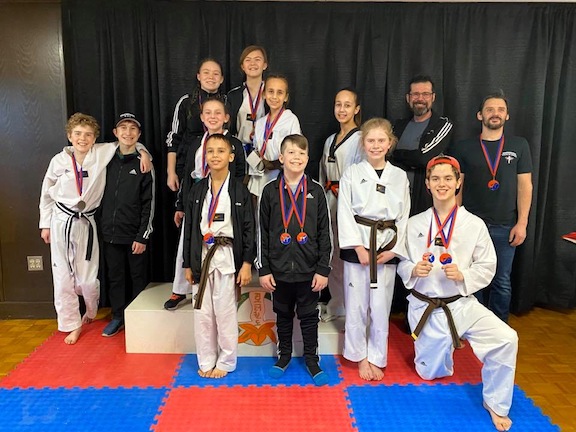 Swift Current Christian Taekwondo students competed at Kim's Challenge tournament in Regina on February 29, bringing home a total of 19 medals in sparring and poomsae (forms) competitions.
"Once again, our athletes' hard work paid off – with close to 200 competitors in the tournament, it was really great to see our school succeed and establish solid medal standings," said head instructor Gary Voysey. "It takes a lot of courage to step onto the mats at a tournament where everyone is watching. This was a first for some and I'm really proud of everyone."
Winning gold in sparring were Brooklyn Hir, Carlos Marquez Peralta, Justin Fry, Lucas Bulin, and Tate Unger.
Austin Evans, Braden Carleton, Bronwyn Day, Jordyn Hir, Sawyer Genert, and Taryn Legault all won silver in sparring.
Emmit Wiebe and Quinten Hir added bronze in sparring.
Carlos Marquez Peralta, Logan Ebner, Lucas Bulin all won gold in poomsae.
Braden Carleton, Brooklyn Hir, and Jordyn Fry added silver in poomsae.