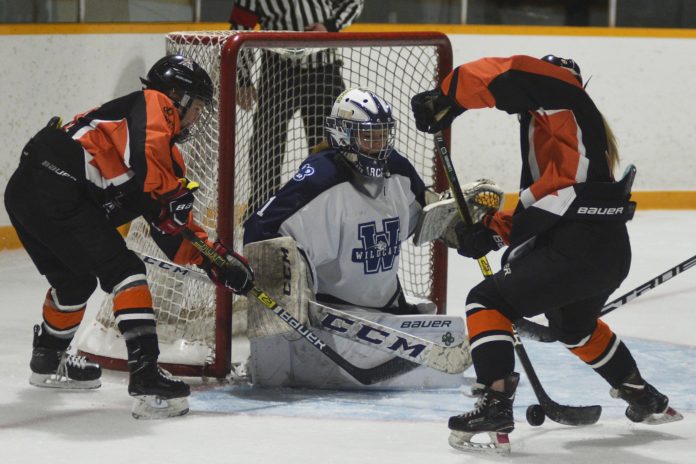 The Swift Current Graphic Edge Wildcats are set to clash with the Prince Albert Foxes for provincial supremacy.
The Wildcats advanced to the provincial final after sweeping the Northwest Sharks in the Saskatchewan Female Bantam AA Hockey League semi-final series. They clinched the sweep with a 2-0 win in Wilkie on Friday after placing first in the regular season with a 15-4-5 record.
"We just more or less kept it basic all year, stuck within the same system, rolled three lines, let everybody play, and just keep doing the little things that always seem to work out in the end. We don't do nothing too fancy and it's seemed to work well for us so far," said head coach Cheyenne Arntsen.
"Right now we're fairly balanced throughout. We have three forward lines that we can just keep rolling and they can play against other teams' top lines, that's always a huge benefit… When you keep rolling three lines you can save your good players for key moments in the game and hopefully they can capitalize. We watch other teams, they overplay players and by mid-game they are done."
Arntsen said that the Wildcats didn't have many expectations heading into the first season of the seven-team Bantam AA province-wide league, noting that some bantam girls still play on boys teams making it difficult to predict which teams would be strong.
The Wildcats will now face the Prince Albert Foxes in the best-of-three championship series. The Foxes placed third in the league, only two points behind the Wildcats.
The Wildcats narrowly won the season series with a 2-1-1 record, scoring eight goals and allowing seven.
"They're gonna be tough. I kinda pegged them to be in the final right from day one. They are very solid defensively and up front probably don't have as much scoring talent as we do, but their back end is really strong. They win lots of 1-0 games. It will be tough and it should be a good series," said Arntsen.
Game one will be Sunday at 4:45 p.m. at Fairview West Arena. The game will have a guaranteed $500 50/50 payout sponsored by Condor Enterprises.