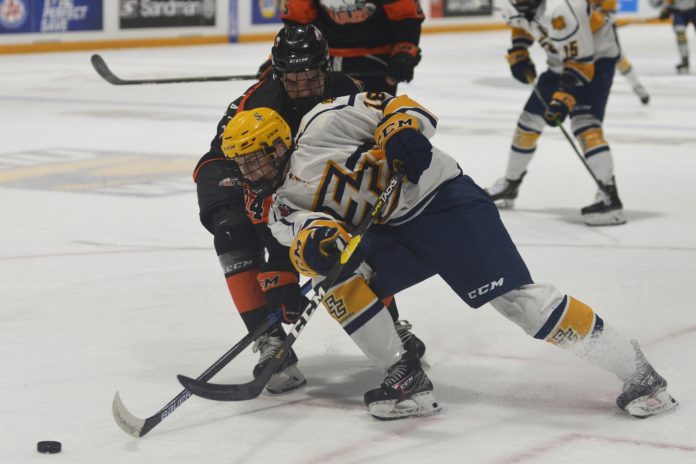 The Swift Current Home Hardware Legionnaires climbed the Saskatchewan Midget AAA Hockey League standings with two wins over the visiting Yorkton Maulers.
Saturday, the Legionnaires fired 54 shots on net and got goals from six different skaters in a 7-4 win over the Maulers.
Riley Dekowny led the way with two goals and one assist. Logan Linklater, Jaxon Martens, Spencer Bell, and Quinn Strang each registered a goal and an assist. Ryan McCleary and Brandon Von Hagen both chipped in a pair of assists. Cash Arntsen also scored, while Eric Robbie, Maguire Scheidt, Rhett Evjen, and Brett Fogg all added assists. Jacob Herman earned the win with 27 saves.
Massen Ziola scored twice for Yorkton, while Prescot Senger and Daitan Dmytriw also scored. Ty Shumanski took the loss with 47 saves.
Sunday, Herman stopped all 24 shots he faced in a 4-0 win over the Maulers. Strang led the Legionnaires with two goals and one assist, followed by a goal and an assist from Bell. Martens also scored, while McCleary, Arntsen, Linklater, Evjen, and Fogg all added assists.
The Legionnaires moved into seventh with a 20-15-1-3 record, two points ahead of the Tisdale Trojans with a game in hand and a playoff spot now secure.
The Legionnaires will visit the Regina Pat Canadians on Wednesday.