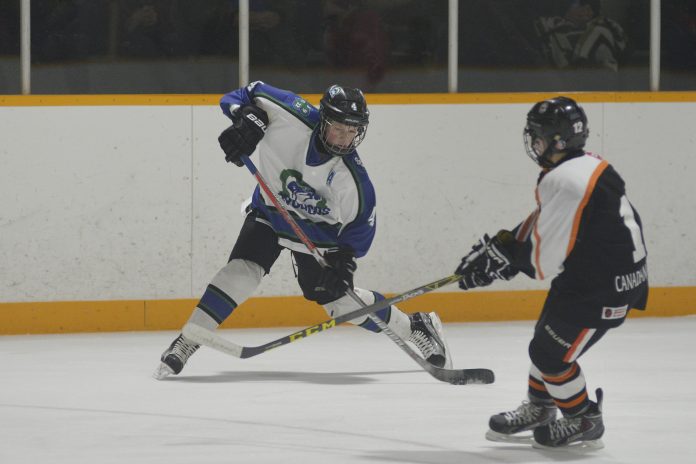 The Swift Current Southwest Terminal Broncos rattled off three straight wins over the visiting Yorkton Terriers to improve to 19-1-0 in the South Sask Peewee AA Hockey League this season.
The Peewee Broncos opened the three-game set with a 5-3 win Friday. Kalan Lind led the hosts with two goals and two assists, followed by a goal and an assist from both Brady Wilson and Dayne Feicht. Daniel Ganert also scored, while Carter Herman, Kane Klassen, Orin Olson, and Jaydon Jessiman all added assists. Hunter Arntsen earned the win in goal.
Saturday, the Peewee Broncos killed off all 11 shorthanded situations in a 7-2 win over the Terriers. Lind netted a hat trick, while Rylan Williams scored twice and Feicht also scored. Rylan Silzer, Nolan Stevenson, Orin Olson, and Ganert all record two assists, followed by singles from Keynan Cairns, Brady Wilson, Jessiman, and Rohan Priebe. Rylan Hildebrand picked up the win to improve to 7-1 with a 1.25 goals against average.
The Broncos completed the weekend sweep with an 8-0 win when Lind scored twice and added four assists. Jessiman added a hat trick and Silzer notched a trio of assists. Priebe also scored twice and Feicht added a goal and an assist. Herman, Klassen, and Williams all added singles assists and Arntsen got the shutout in goal.
The next league action for the Peewee Broncos is not until Feb. 3-4 when they visit the Estevan Bruins.