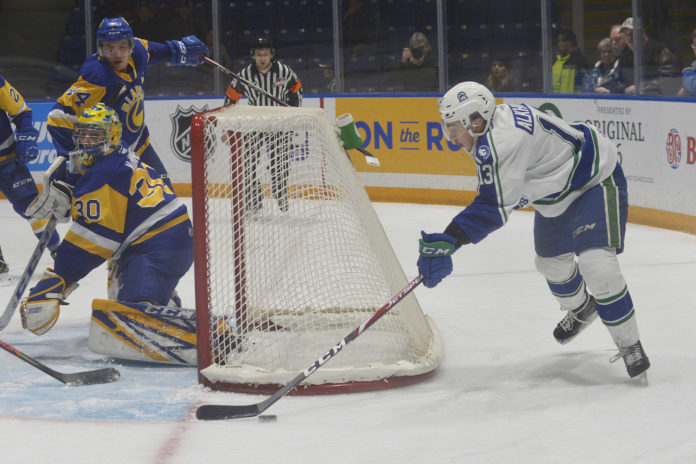 The host Swift Current Broncos lost to the Saskatoon Blades on Saturday to conclude a home-and-away set. One day after suffering a 5-0 loss in Saskatoon, the Broncos fell 7-2 to the visiting Blades, their sixth consecutive loss.
The Broncos outshot the Blades 10-9 in the opening stanza but fell behind 2-0 on goals from Chase Wouters and Tristen Robins.
The Broncos got back into the game when Cole Nagy knocked home a rebound 4:02 into the second period for his fourth goal of the season. The Blades quickly regained control of the game with goals from Martin Fasko-Rudas and Alex Morozoff. The Broncos closed the period with a goal from Aiden Bulych when he fired home his 10th goal of the season on a three-on-two rush.
Kyle Krncovici notched a power play goal only 17 seconds in the third period to make it 5-2 Saskatoon. Aidan De La Gorgendiere fired home the sixth and seventh goals for the Blades minutes later.
Isaac Poulter made 34 saves to fall to 8-19-1-2 for the Broncos. Koen MacInnes earned the win with 26 saves to improve to 7-4-0-0.
The Broncos fell to 9-29-1-3, while Saskatoon improved to 22-18-1-2.
The Broncos will be back at home on Wednesday to host the Edmonton Oil Kings to continue a three-game home stand.