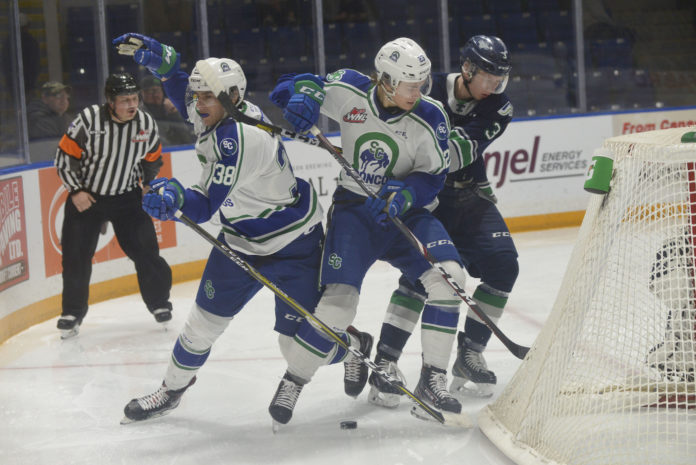 The Swift Current Broncos' two-game winning streak came to an end in a 4-2 loss to the visiting Seattle Thunderbirds on Sunday. Playing their third game in as many days, the Broncos allowed three straight goals after opening the scoring.
The Broncos took the lead in the first period when rookie Aiden Bulych scored via a nifty behind the back deflection on the man-advantage for his ninth goal of the season. The Thunderbirds quickly tied the game with an Andrej Kukuca goal.
Seattle took the lead when Connor Roulette sent a screened shot home early in the middle stanza. Keltie Jeri-Leon fired home an insurance goal for the Thunderbirds early in the third period on a lengthy three-on-two rush.
The Broncos made things interesting when Jaxan Kaluski scored to make it a one-goal game with 4:54 remaining in regulation. Jeri-Leon scored an empty net goal to seal the win with 1:21 left on the clock.
Isaac Poulter took the loss with 33 saves to fall to 8-17-1-1 for the Broncos. Roddy Ross made 29 saves to improve to 10-12-3-1.
The Broncos fell to 9-25-1-2, while Seattle improved to 15-20-2-1 with a 2-1 record during a weekend trip through the Central Division.
The Broncos are idle until Saturday when they visit the Lethbridge Hurricanes.
Bronco Bits: Forward Braeden Lewis made his WHL debut on Sunday. The 16-year-old was a sixth-round pick in 2018. He has 37 points 30 games with the Southwest Midget AAA Cougars this season.