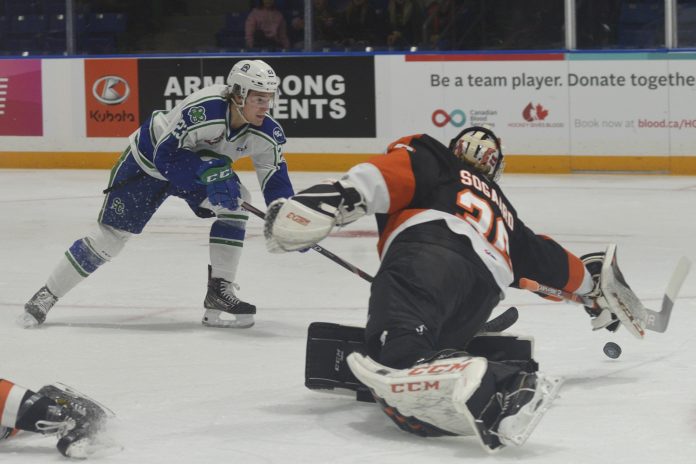 The Swift Current Broncos returned from the holiday break with a memorable 4-3 shootout win over the Medicine Hat Tigers on Friday. The Tigers had three times as many points in the standings heading into the contest, but the Broncos gave themselves a chance to win with three first-period goals over a 5:50 span.
Sergei Alkhimov scored the shootout winner and Isaac Poulter stopped five of six shooters as the Broncos ended a nine-game losing streak.
Poulter picked right up where he left off with 40 saves over 65 minutes to earn the win.
"Yeah it was really nice getting that first one out of the way for the second half," said Poulter. "Hopefully we can keep rolling."
It was the Broncos first game in 13 days.
"I feel like we really just needed that break to get the hockey off our mind and start getting ready for the second half," said Poulter.
The Broncos earned the early lead when Tyler Smithies scored and then Aiden Bulych scored twice as both players had three-point periods. Ryan Chyzowski had scored to tie the game 1-1 as the Broncos led 3-1 after one period.
Chyzowski scored the only goal of the second period and Dylan Plouffe scored with 19 seconds left and the goalie pulled to force overtime.
"I thought we had a lot of compete. We struggled a little bit with some plays, a little too fancy. I think we really just worked hard out there and it was a hard-fought W," said Poulter.
The Tigers dropped to third in the Eastern Conference with a 22-10-1-1 record. The Broncos improved to 7-22-1-2. The Broncos are now 1-2 in shootouts this season.
Poulter stopped the final four shooters after Chyzowski had scored on the second attempt.
"I just make sure I'm patient and not trying to make the first move, let the player make the first move," he said of his shootout approach.
Poulter didn't seem to have any issues shaking the holiday rust off.
"It was a little rough the last couple practices just getting back into it. But I felt pretty good out there tonight."
He said that goaltenders can struggle with a lengthy layoff.
"I feel like it is a little bit tougher since you can't really skate as a goalie when you go home. It was pretty nice seeing 40 shots tonight. It's just nice getting back into it with that."
The Broncos will visit the Lethbridge Hurricanes on Saturday. They also host the Hurricanes on Monday.
"I think we just want to win as much as we can. That's all we want to do is try and win every game," said Poulter.