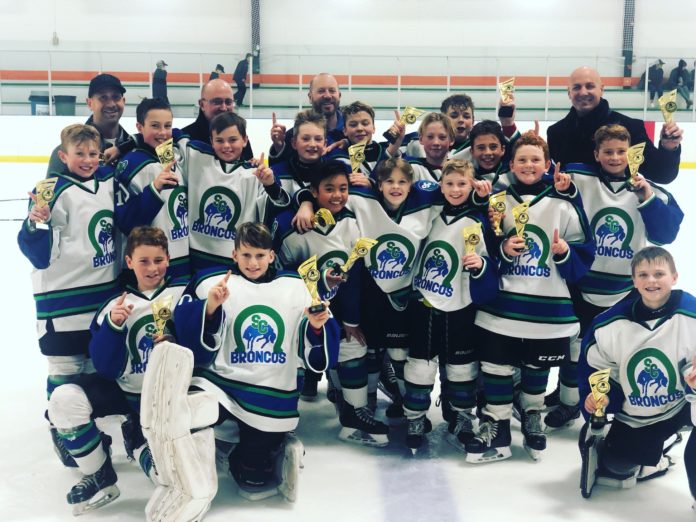 The Swift Current Southwest Terminal Broncos won their final five games to win gold at the Medicine Hat Minor Hockey Peewee AA Hounds Tournament.
The Peewee Broncos lost their tournament opener 7-6 to the St. Albert Sabres on Friday afternoon. They recovered that evening with a 7-1 win over Calgary Springbank.
Saturday, they continued the round robin with a 9-2 victory over the Calgary Bow River Bruins. They added a 7-2 win over the Medicine Hat Hounds Orange to conclude the round robin.
In Sunday's semi-final, the Broncos defeated the Medicine Hat Hounds Black 8-4.
They rematched with St. Albert in the gold medal game and won 5-3 to claim the championship.
Parker Rondeau scored twice, Peyton Keller, Derric Dulatre, and Gage Nagel each added a goal and an assist, and Sam Kirwan picked up a pair of helpers. Brady Simpson, Levi Wills, and Ryden Lingenfelter added single helpers. Berney Weston earned the win in the gold medal game.
Peewee Broncos win Alberta gold Peewee Broncos win Alberta gold The Peewee Broncos will return to league action on Saturday when they host the Estevan Bruins at Fairview East Arena at 8 p.m. The two teams will rematch on Sunday at 12 p.m.