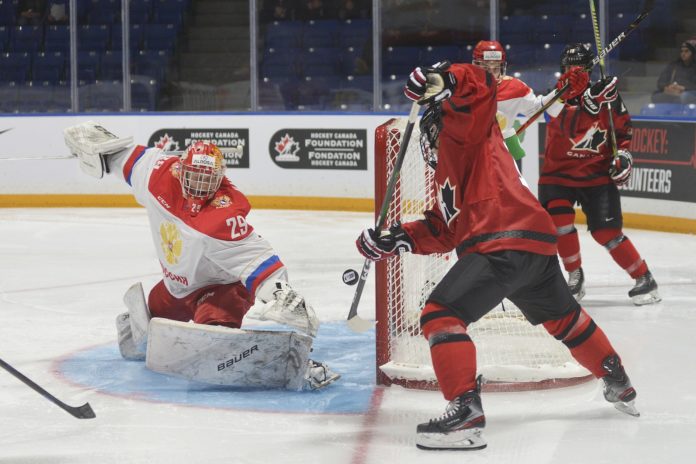 Canada Red scored the opening three goals over a 2:57 span and held on to defeat Russia 4-3 in the opening game of the World Under-17 Hockey Challenge in Swift Current on Saturday.
Kamloops Blazers forward Logan Stankoven scored the opening two goals for Canada Red 2:19 apart in the second period. Connor Roulette scored seconds later for a 3-0 lead.
Russia battled back with second-period goals from Matvei Nadvorniy and Aleksei Prokopenko to make it a one-goal game.
Dovar Tinling scored the eventual game winner for Canada Red 6:12 into the final frame before Daniil Lazutin replied for Russia to ensure a nervous final 9:36 for Canada Red.
Thomas Vilic earned the win for Canada Red with 28 saves on 31 shots. Pavel Kanaev took the loss with 20 saves on 23 shots during a shortened outing. Valerii Brinkman stopped 19 of the 20 shots he faced in relief.
"It's nice to have success early, and I thought we really came together as a team tonight," said Stankoven, who was named Canada Red's player of the game. "We got up 3-0 and they were able to scored two quick ones, but we held them off. We are looking forward to the next game on Monday and keeping our momentum going. Coach [Martin Laperrière] told us to just keep doing the little things, to continue to take care of our own end first before we play offence."
The Swift Current portion of the tournament will continue on Sunday with Finland versus Sweden at 3 p.m. at the Innovation Credit Union iplex. Canada Red will face Sweden on Monday at 7 p.m.