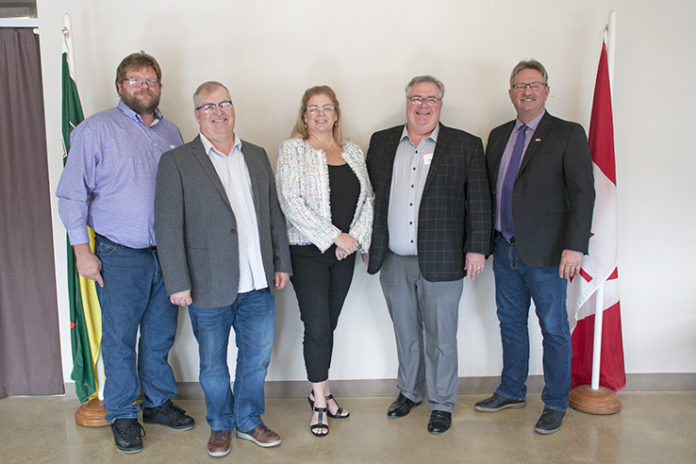 A pair of Southwest drinking water projects are taking additional steps forward following a major funding announcement on Monday.
Both the Town of Shaunavon, and the Southwest Regional Potable Water Supply System Project were announced as successful recipients of funding from both the provincial and federal governments through the Investing in Canada Infrastructure Program.
A total of $25 million in funding will support the development of two key drinking water initiatives.
"Investing in infrastructure like this is key to supporting the needs of Saskatchewan communities," explained Government Relations Minister Lori Carr who was on hand for Monday's announcement during SUMA's Southwest Regional meeting at the Crescent Point Wickenheiser Centre.
"A pair of projects that when completed will improve access to potable, clean drinking water, better position your communities for growth in the Southwest, and improve the quality of life and the citizens that all of you serve as elected officials."
The provincial government is investing $8.3 million towards the two water projects as their commitment through the Investing in Canada Infrastructure Program.
Carr noted that the funding is intended to help move the projects from the drawing board to reality, and the dollars involved take some of the burden off communities solely funding these infrastructure projects.
"Without funding like this I don't know that these communities could do it alone. So we're just happy to do our share to ensure that they have safe, potable water for their communities."
She added that the partnerships involved in developing the Southwest Regional Potable Water Supply System Project are also a key in making that project a reality.
"Municipal cooperation is something that will absolutely benefit everybody in this province. So to see this organization come together like they have and truly get on the same page for the betterment of miles and miles of community is just fantastic to see."
The Southwest Regional Potable Water Supply System Project is in the early stages of designing a 139 kilometre regional water pipeline system to serve the communities of Cabri, Lancer, Abbey, Pennant, Success and Hazlet. The scope of the work will eventually involve the construction of a river intake and pump station from the South Saskatchewan River, new booster stations, along with the installation of a pipeline with water connection points to access the water supply.
Cabri Mayor David Gossard said this initiative will benefit all residents of that area of the Southwest.
"Once complete the project will directly support every community on the regional system and its residents by keeping drinking water affordable and accessible to all. We're really enthusiastic about this opportunity to work together and benefit the entire region."
He noted that water quality is a key concern to area residents and municipal politicians.
"Up in the Pennant, Cabri, Lancer, Hazlet area, we're all just on the bubble of being able to meet the water standards that are set by the government. Hazlet's in a boil water situation and have been for a couple of years. Abbey's on the brink where they can't keep up. Cabri, we're getting close. It's a 1960s water plant. So I just saw a real need for us to work together. We can't all afford water treatment plants. But we can build one, pump it out to everybody. It just made more sense."
He noted that all communities are currently sharing a certified water treatment operator, and it just makes sense to have a regional system. He anticipates that SaskWater will own the utility, and then will bill the communities for the water. SaskWater would then be in charge of staffing, so that make a difference to the various communities that they don't have to find highly qualified operators.
There are also other ripple effects of the regional pipeline project.
"Cabri applied for this on behalf and in conjunction with the other towns and villages, plus also the RMs are a part of this. We'll be able to have tank loading facilities for their rural people to come and get good water to haul back to their wells."
"It's got a big potential to serve a big, big area and solve a real important need."
Kent Haggart, the Mayor of Abbey, was also on hand for Monday's announcement in Shaunavon.
"It's going to guarantee that supply of clean water for years and years to come, and that's one of our main concerns that we have," Haggart said. "This solves a big problem for a small town community. It's a great opportunity."
Shaunavon Mayor Grant Greenslade noted that Shaunavon's funding will be utilized for expanding the Ultraviolet (UV) Water Disinfection equipment they first tested during a recent pilot project.
In the spring of 2018 they began a pilot project on Well #5 to test the effectiveness of UV disinfection to the water before it enters the distribution system.
"The primary objective for adding the UV is to achieve primary disinfection."
As the project met their water quality objective they then moved forward to apply for funding under the Investing in Canada Infrastructure Program.
"We are excited to announce that Shaunavon's application for grant funding from both the federal and provincial government has been approved, and preliminary planning for the installation of the UV reactor systems in four wells – numbers 1, 2, 9 and 10 has begun. Funding will also be used towards the construction of four new pump buildings, while rehabilitating the four wells and related works."
He anticipated the project will begin in the spring of 2020, and be completed by the end of the year.
Greenslade explained Shaunavon has also been working in order to stay ahead of the more stringent water quality demands implemented by the provincial government.
"Over the years some of the legislation has changed and so we were finding that we were starting to get to the sort of the upper end limits of chlorination in our water, so we wanted to look at better ways to provide water to our citizens."
He noted they are looking at a cost of $200,000 per well to install additional UV reactor systems.
"We're probably still looking somewhere around that $200,000 per reactor per well, because we're also going to work over that well at the same time – replace the existing pump, expand the pump building, and then of course install the UV reactor system and new piping."
"Of course this is one of our leading concerns right now is the introduction of this UV system. We can't put in a water treatment facility the way that our infrastructure is positioned, so this is the next best thing."
"This will provide clean, safe water for many years to come."