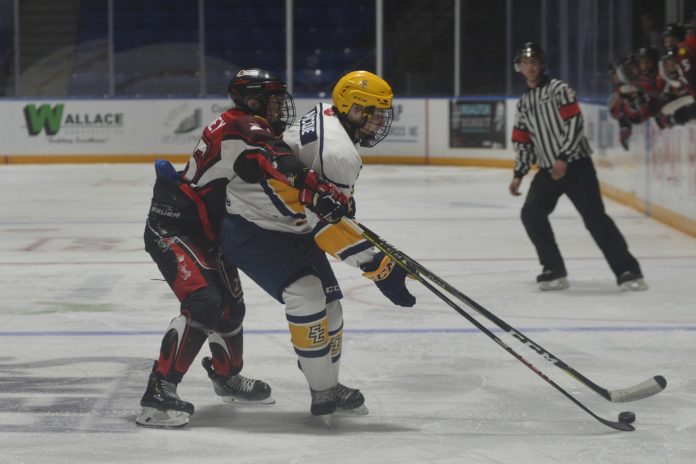 The Swift Current Home Hardware Legionnaires continue to be a .500 hockey club early in the Saskatchewan Midget AAA Hockey League regular season after splitting with the visiting Beardys Blackhawks over the weekend.
Saturday, the Legionnaires scored the opening three goals in a 3-1 win over the visiting Blackhawks.
Jakin Lawrence opened the scoring, Jaxon Martens scored the eventual game winner, and Riley Dekowny scored while shorthanded.
Tyler Council, Eric Robbie, Cash Arntsen, Quinn Strang, Carey Levesque, and Rhett Evjen all picked up assists.
Jacob Herman earned the win with 25 saves on 26 shots. Matthew Heannessey took the loss despite making 44 saves for the Blackhawks. Cole Duperreault scored in a losing cause.
Sunday, the tables turned as the Blackhawks won 5-1. Lawrence scored the lone goal with assists from Tylin Hilbig and Tyler Council. Justin Dueck took the loss with 19 saves on 23 shots over 40 minutes. Herman made 11 saves on 12 shots over one period of work.
Anthony Toporowski, Holden Doell, Robert Pizzey, and Cobe Delaney all scored for the visitors. Kris Johnson earned the win with 29 saves on 30 shots.
The Legionnaires finished the weekend with a 3-3 record, while Beardys improved to 1-3.
The Legionnaires will visit the Notre Dame Argos on Wednesday.
The Legionnaires will also head north this weekend to visit the Saskatoon Contacts and the Beardys Blackhawks.