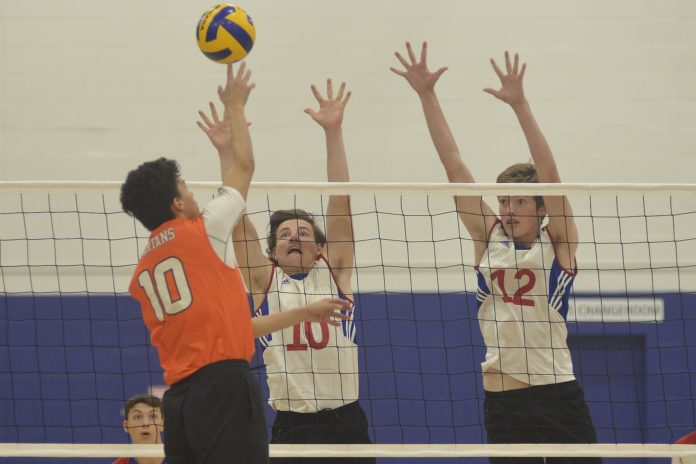 The Swift Current Comp. Senior Colts volleyball team now have a medal of each colour in three tournament outings to open the season.
They won six of seven matches to win silver at their 15-team home tournament over the weekend, losing their final match to Meadow Lake (25-27, 25-21), who won the tournament for a second straight year.
"Defensively they were just a little quicker to some balls than we were," said head coach Darren Lehmann. "When they're running offense they are hitting a lot of off-speed, deep corner balls and we had a bit of trouble adjusting to that. We just have to clean up a few of the smaller details and I think we will be alright."
The Colts had finished first in their round robin group, only losing one set along the way. They opened the tournament with a win over the Fox Valley Legends (25-11, 25-18), defeated Birch Hills in three sets (25-14, 24-26, 15-6) and downed Estevan (25-19, 25-19) on Friday. They wrapped up the round robin on Saturday morning with a win over the Regina LeBoldus Golden Suns (25-23, 25-19).
The Colts defeated the Weyburn Eagles in straight sets to open the playoffs and then moved past Balgonie (25-15, 25-21) in the semi-final in a rematch of last year's provincial final.
The Colts had opened the season with a bronze medal in Prince Albert and then won gold in Medicine Hat prior to their home tournament.
"Each weekend we have been improving, which is a good sign," said Lehmann. "We are starting to speed up the tempo of our offense. The good signs are coming and we are looking alright."
The Colts won silver at 5A Provincials last season and are hoping to be in the medal picture again this season.
"We are knocking on the door of the upper echelon with a couple teams there. It looks like St. Mary and Meadow Lake have been pretty consistent with what we've seen. We haven't seen all the Regina teams, but we're making our way up there," said the first-year head coach.
Lehmann may be new to the Colts Volleyball program, but his resume includes 11 provincial titles at the 1A and 2A level with the Fox Valley Legends.
"It's been fun. The kids are excited and it's been fun working with them. We will build on each weekend with what we can do."
The Colts' next action will be at a tournament hosted by Regina Campbell next weekend.