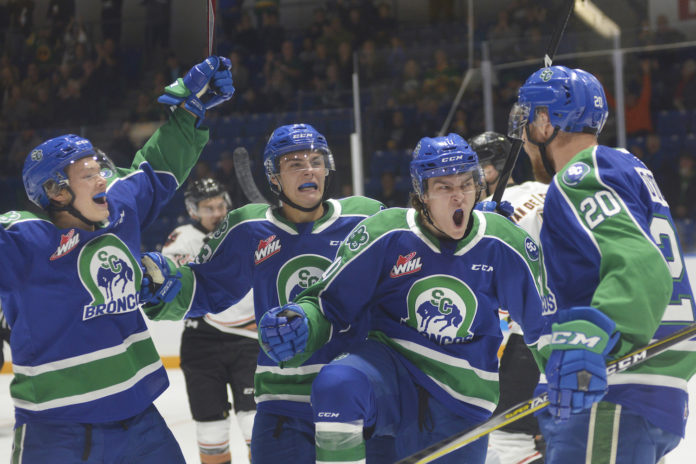 The Swift Current Broncos opened the 2019-20 Western Hockey League regular season with a dramatic 3-2 overtime win over the Calgary Hitmen on Saturday.
Second-year forward Joona Kiviniemi was the overtime hero when he snapped home a power play goal with less than a second on the clock.
Isaac Poulter helped ensure the win with 35 saves in addition to a penalty shot save in overtime.
"Obviously it's huge for us. Calgary is a good team, so it was a good test for us. We had some rough patches through the game, but we ended up battling through them and we got the win and that's all that matters," said veteran forward Ethan Regnier.
The Broncos notched their first goal of the season at the 14:07 mark of the first period when Carter Chorney knocked home a rebound for a 1-0 lead. Calgary responded 3:43 later with a Carson Focht goal to even the game after one period.
Regnier scored the only goal of the second period when he was hauled down on a breakaway and converted the resulting penalty shot as the puck just trickled through Carl Stankowski and over the goal line.
Igor Zamula forced overtime when his point shot snuck through a crowd to tie the game with 17.9 seconds remaining in regulation.
Stankowski took the loss with 19 saves as Poulter out-dueled his counterpart.
"He had a huge game for us. He was steady all night. We knew we had him back there, so every time we had a breakdown he was there to bail us out," said Regnier.
The Broncos finished 5-0-0-1 in the preseason and continued to show their resiliency after allowing the tying goal in the final seconds.
"Obviously that's tough, you never want to do that. The message on the bench was to keep going, keep our heads up and we ended up winning it in OT," said Regnier.
Regnier was announced as the 32nd captain in franchise history on Friday.
"It's a huge honor and a privilege to wear the 'C' for the organization. I'm excited to keep the season going."
He noted that he had learned from captains Glenn Gawdin and Tanner Nagel during his tenure with the Broncos.
"Being a leader is all of it. You've got to be good, come in everyday, be good everyday, lead the boys on and off the ice."
The Broncos are off until Friday when they host the Medicine Hat Tigers to begin a home-and-away set.
Regnier and the Broncos feel they have something to build on this week.
"I thought it was a good game. Obviously it was a first game, so quite a bit of rust. I think we are trending in the right direction. A big week of practice coming up and we will be ready for Med Hat."