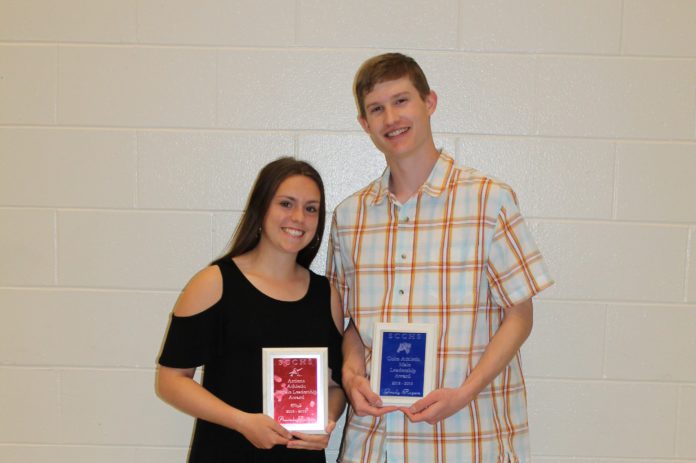 Graduating athletes Amanda Thoreson and Grady Rogers were acknowledged for a career's worth of outstanding behavior when they were named the recipients of the Swift Current Comp. High School's Female and Male Athletic Leadership Awards.
The Athletic Leadership Award is presented to an athlete who demonstrates a high level of dedication, consistently puts forth outstanding energy, effort, and improvement, represents themself with dignity, grace, and humility, and has a high level of sportsmanship.
Thoreson competed in five different sports with the Ardens, including four years on the track and field team. She was on the Junior Ardens volleyball team in grades 10 and 11. She also played Grade Nine Ardens basketball and was a member of the senior team in grades 10 and 11. Thoreson also ran for the cross-country team in grades 10 and 12 and took on a new challenge in grade 12 when she joined the wrestling team.
Thoreson was recognized for her work ethic, her smile, her quest for improvement, coachability, inclusiveness, and her supportiveness amongst other qualities.
Rogers represented the Colts in four different sports, including a four-year run with the curling and badminton teams. He also played grade nine volleyball and for the junior team in grade 10. Rogers played for the Colts soccer team as well in grade 11 and 12.
Rogers was singled out due to his work ethic, sportsmanship, positive attitude, humility, determination, and diligence.