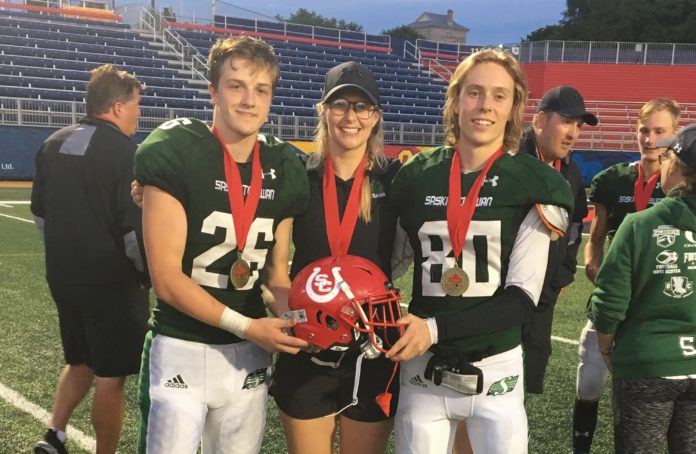 Swift Current's Rhett Vavra and Ethan Kurtz were still on cloud nine a couple days after helping Saskatchewan win a second straight Football Canada Cup Championship in Kingston, ON.
The Swift Current Comp. Colts stars helped Saskatchewan defeat Quebec 16-9 in the championship game on Saturday. Swift Current's Kristie Mueller was also the athletic therapist with Team Saskatchewan.
"It's hard to explain for two Swift kids that would never think we'd being doing this," said Kurtz, 17.
"It was really exciting for the whole team. For me personally, I could try out last year and I didn't make it," Kurtz explained. "So I was at home watching it on my phone when all my friends were posting it up in Calgary. So just to be there this year and win it and go through… I felt like I could have been on that team last year. Just winning it this year brought everything and kind of made me feel good."
"I have two years, because this is my first year, so I wasn't as nervous as I probably should have been," admitted Vavra, 15. "But it's not an everyday thing that you are in a position to win the final game. It was nerve-wracking. When we were up points it was an extreme high and I was like 'Oh yeah we are going to win this.' Then when they were pushing on our 10, five (yard line) and our defense was bend don't break, it's like 'Oh how are we going to pull this off?' When you do it's hard to explain."
Saskatchewan had advanced to the final with a 37-0 win over Nova Scotia on Sunday, followed by a 23-15 semi-final win over Ontario on Wednesday.
Both Vavra and Kurtz agreed that Saskatchewan played more as a team than some of the other provinces at the Canada Cup.
Vavra started at wide receiver for Team Sask and played on special teams. He had injured his quad during training camp and had doubts whether he would be able to start. "I just bounced back and started."
Kurtz was a starter in the defensive backfield. "In tryouts I was kind of moved around a lot, played both boundary and field side corner, so I didn't really know going in where I would play, but hoping I would play. I got moved to field side. Not a lot of action there but that means you're doing your job," said Kurtz, who also played special teams. "I was just happy that I was out there and could make a difference for our team."
Read the July 18 edition of the Southwest Booster for the complete story.