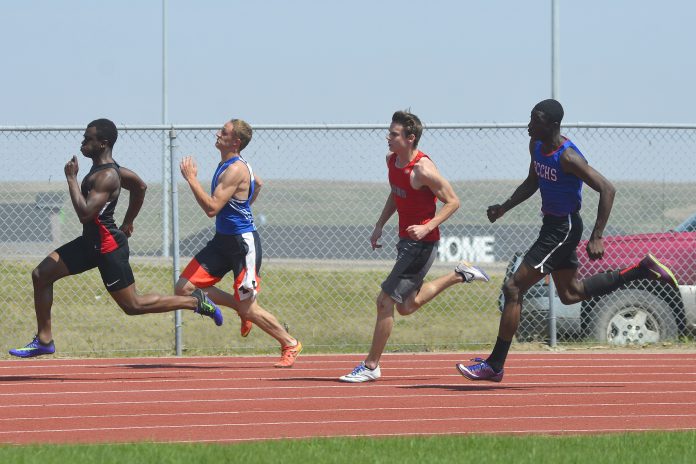 Six Southwest athletes represented Saskatchewan at the Tri-Province Meet in Regina over the weekend against competition from Alberta and Manitoba.
Swift Current's Scott Joseph won the Long Jump with a top jump of 7.35 Metres to top the nearest competitor by almost half a metre in the 18-20 Western Canada Games Division.
He added a silver medal in the Triple Jump with a 13.38-metre effort. Joseph, 18, also ran in the 200 Metres and won bronze in 22.25 seconds.
Joseph was also on the men's 4×100 Metre Relay team that won in 42.24 seconds.
Joseph will represent Saskatchewan in the 2019 Western Canada Summer Games in Swift Current, when he will be joined by Swift Current's Kalea Sauder and Leader's Jackson Sitter.
Swift Current's Madison Lawrence and Hunter Berg will also represent Saskatchewan in their hometown in Special Olympics Athletics at the Summer Games.
Lawrence, 8, was at the Tri-Province Meet and qualified in both the 200 Metres and 400 Metres. Berg was unable to compete at the Tri-Province Meet, but has been invited to join Team Saskatchewan for the Games.
Sauder will compete in the Heptathlon at the Games. She tied for third in High Jump in the 18-20 WCSG Division when she cleared the bar at 1.55 metres in Regina.
Sauder placed fifth in Long Jump with a top jump of 5.19 metres. She also placed sixth in the 100 Metre Hurdles in 15.75 seconds.
Sitter will represent Saskatchewan in Triple Jump at the WCSG. He was fourth in the Triple Jump in Regina with a 13.15-metre top effort.
Sitter placed fifth in Long Jump with a best jump of 6.41 metres. Sitter also ran in the 200 Meters and placed fifth in 23.87 seconds.
Leader's Reed Sitter placed 10th in the Boys 16-17 Discus Throw when his best throw travelled 22.10 Metres. He finished fifth in the Hammer Throw with a 28.55-metre toss.
Reed Sitter finished seventh in Shot Put with an 11.32-metre heave. He also placed 12th in Javelin with a 24.91-metre throw.
Webb's Brandt Leppa had a seventh-place showing in the Boys 16-17 Javelin when he produced a top throw of 43.10 metres. Leppa also placed 11th in the Discus with a top throw of 21.07 metres.