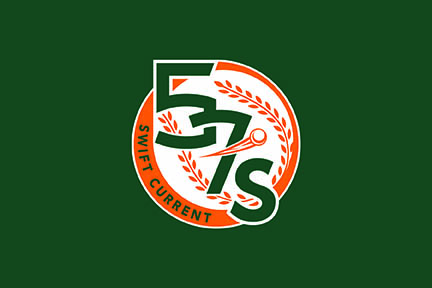 The Swift Current 18U AAA 57's won four games to place third out of 11 teams at the Sask Selects Tournament in Saskatoon over the long weekend.
The 57's opened the tournament on Friday afternoon with an 8-1 win over the Regina Wolfpack. Nolan Klein and Dawson Schultz combined to allow only three hits without allowing an earned run in the win.
Mac Gross led the 57's with four runs batted in, while Ethan Murdoch added two hits, a walk, a stolen base, one run scored, and one RBI as the 57's finished with eight hits and eight walks.
They added an 11-2 win over the Parkland Expos later that day. Brock Wall got the win as he held the Expos to two runs with seven strikeouts over six innings. The top three batters in the order combined for 10 hits, led by Brody Alexandre, who finished a home run short of the cycle during a four-hit, five-RBI outing. Leadoff man Nathan McInnis was all over the base paths with three singles, two walks, and four runs scored. Gross added three hits, two runs scored, and one RBI.
Saturday, the 57's won their opener 9-0 over the Saskatoon Diamondbacks as they got a complete game shutout from McInnis, who allowed five hits and four walks without allowing a run over six innings.
The 57's were patient at the plate as they turned seven hits and 10 walks into nine runs. Klein helped his cause with one hit, two stolen bases, two runs scored, and two RBI. Kelsey Rokochy tripled, singled, walked, stole a base, scored once, and finished with four RBI's.
The 57's dropped their first game of the tournament on Saturday afternoon in a 6-3 loss to the Saskatoon Cubs. Dawson Schultz led the 57's with three hits, one run scored, and one RBI.
The 57's met the Regina Athletics on Sunday for bronze and knocked out 19 hits in a 20-9 victory. The 57's scored three runs in the first inning, added 11 more in the second, and put the game away with a six-run fourth inning.
Murdoch led the 57's with four hits and four runs scored. Alexandre tripled during a three-hit performance, scored twice, and brought a pair of runs around to score. Quinn Patenaude finished with two hits, one stolen base, two runs scored, and three RBI's.
The 18U AAA 57's (3-3) will resume their Saskatchewan Premier Baseball League schedule on Saturday when they host the Saskatoon Diamondbacks for a double header beginning at 1 p.m.
They will also host the SouthEast Twins for a double header on Sunday beginning at 1 p.m.