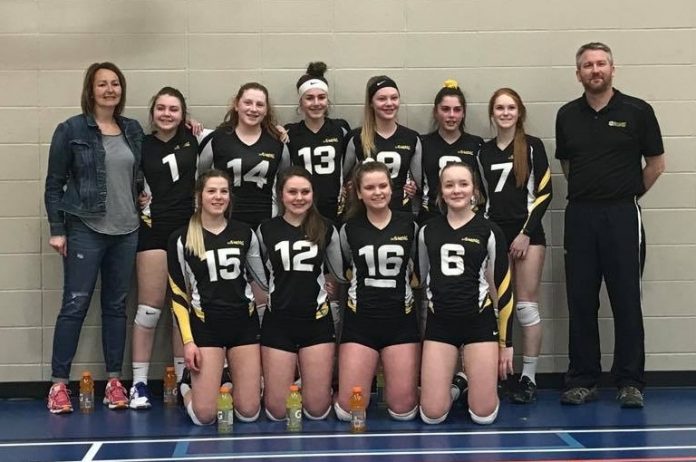 The Swift Current 15U Female Black Junior SunDogs won silver for a second straight outing at the Summit Tournament in Regina.
They won all four matches in straight sets on Saturday. The SunDogs defeated Moose Jaw (25-13, 25-19), the Regina Royals (25-6, 25-13), Estevan (25-18, 25-9), and the Regina Cougars (25-21, 25-20).
Sunday the 15U Junior SunDogs split their opening match 29-27 and 24-26 against Weyburn.
They faced the Weyburn Cobras in the championship match and lost 18-25 and 20-25.
"I felt we played pretty well the Saturday of the tournament," said coach Chris Grainger. "We have been working on some new things and we were able to put them into play at the tournament with great success. Our serving and passing were better than it has been all year. On Sunday, our first game against Weyburn was really good! Both teams played hard and they were battles. In final, they just played better than us. We didn't pass the ball that well, which can take your hitters out of it."
The 15U Black Junior SunDogs will attend Provincials on April 26-28 in Saskatoon.
"We are going into provincials as the fourth ranked team in the province, however, the rankings are so close, most only separated by a few points. As we have known all year, anyone can beat anyone in Tier 1. All the teams are that close. It usually comes down to who wants it more and who makes the least mistakes. We know that every game is going to be a battle and we have to compete hard," said Grainger.