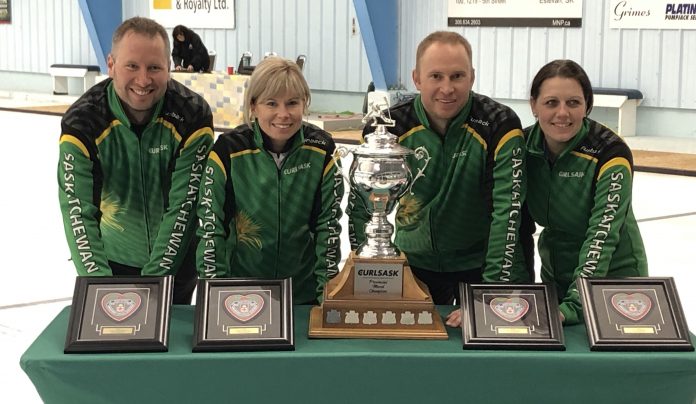 A pair of Southwest rinks were amongst the crowded 24-team field at Mixed Team Provincials in Estevan this weekend.
The Meachem rink was a who's who of Swift Current curling with skip Shaun Meachem, third Kelly Schafer, second Chris Haichert, and lead Teejay Haichert curling out of the Swift Current Curling Club. They won six of seven games to win Provincials in Estevan.
Team Meachem opened the tournament on Thursday evening against Regina's Michelle Englot. They won 8-7 after scoring four points in the third end to overcome an early 3-1 deficit.
They remained in the A Event on Friday afternoon with a 7-0 win over Weyburn's Dave Wetsch in only four ends. After a scoreless opening end, the Swift Current rink scored two points, followed by steals of two and three to end the game early.
Meachem was knocked out of the A Event in an 8-1 loss to Regina's Jason Ackerman on Friday evening.
They rebounded in the B Event with a 10-0 win over Estevan's Shawn Meyer when they scored four points in the first end, stole a single in the second end, and then ended things with a steal of five in the third end.
Meachem opened the playoffs with a dominating 10-3 win over Estevan's Wade St. Onge in seven ends. Meachem opened the game with a three-point end and then put a crooked number on the board in every other end to run away with the game.
The Swift Current foursome advanced to the final with a 6-2 win over Saskatoon's Justin Heather in the semi-final. They scored a single point in the opening end before adding a steal of two and another steal to take control of the game after only three ends.
Meachem met Tyler Hartung, who was curling out of the Twin Rivers Curling Club, in the final. The teams traded deuces in the opening two ends before Meachem scored points in four straight ends to win 7-2. Meachem scored one point in the third end with the hammer, stole a pair in the fourth and then added steals of one in the fifth and sixth ends to conclude the game.
Meachem, Schafer, and the Haicherts will now represent Saskatchewan at Mixed Team Nationals in Saguenay, Quebec on November 4-9.
Chris and Teejay Haichert previously won Mixed Provincials and Nationals with the Max Kirkpatrick rink in 2014 before representing Canada at the inaugural Mixed World Championships in Berne, Switzerland in 2015.
A Frontier rink skipped by Clay Thoring also featured third Loreen Coakley, second Jay Peterson, and lead Shoni King.
The Thoring rink lost its opener 8-5 to Regina's Ben Gamble on Thursday morning. Thoring opened the game with a four-point first end before allowing eight of the final nine points.
The Frontier rink fell 7-3 to Estevan's Tye Olson on Thursday evening.
Team Thoring were down to their final life on Friday and they were eliminated in an 8-5 loss to Estevan's Kevin Keating.