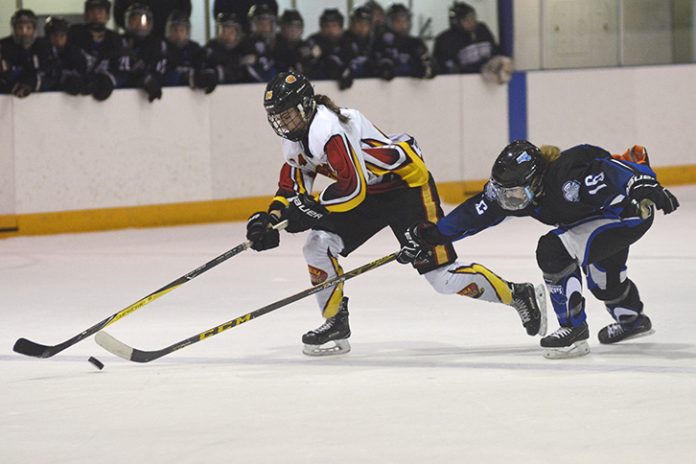 A quick start on home ice on Sunday night helped the Swift Current Diamond Energy Wildcats draw even in their Saskatchewan Female Midget AAA Hockey League semi-final series against the Regina Rebels.
Ashlee Wolfe scored 1:21 into the opening period and the Wildcats continued their strong play in a 3-1 win over Regina in game two of their best-of-five playoff series. It was a bounce back win for the Wildcats who stumbled 3-0 in the series opener on Saturday afternoon.
In Sunday's win, Swift Current extended their first period lead to 2-0 on a goal from Crystal Wale.
After Regina pulled within a goal with the lone marker of the second period, Swift Current added an insurance marker from Ryleigh White in the third period to put the game out of reach.
Amaya Giraudier earned the win in goal for the Wildcats after turning aside 40 of 41 shots.
The Wildcats and Rebels are no strangers to a playoff rivalry, with the teams clashing in the three of the previous four league playoffs. In 2015 the Wildcats swept the Rebels in three games. In 2017 the Wildcats scored a 3-1 opening round win over the Rebels. Last year Regina collected their quarter final playoff series by a 3-1 margin.
Wildcats head coach Terry Pavely said because of their past playoff history they knew this year's series would be challenging.
"We didn't dwell on last night. I mean we didn't have our best game," he said of the series opening loss on Saturday. "Today I thought our compete was there. We didn't execute real well maybe in the first half, but we got better as the game when on. I thought the tide turned a little bit in the third period, we had the better of the scoring chances."
Regina outshot the Wildcats 11-5 in the opening period and 16-7 in the middle stanza, but the team both collected 14 shots in the third period.
"Our goaltender was really good in the second period when we needed it. And I thought in the third period we were a pretty good team," Pavely said.
And while they were outshot 41-26 in the win, the coach was happy that most of Regina's shots were from perimeter.
"I thought our D zone was pretty good compared to last night. Last night I thought they had way more quality scoring chances than they did today," he said. "We're going to have to be a little smarter with the puck. It seemed like we turned a lot of pucks over in the neutral zone just because our wingers weren't quite getting to their spot."
Game Three returns to Regina on Tuesday, and one of the teams will be facing elimination in Game Four at the Fairview Arena on Wednesday at 7:15 p.m.