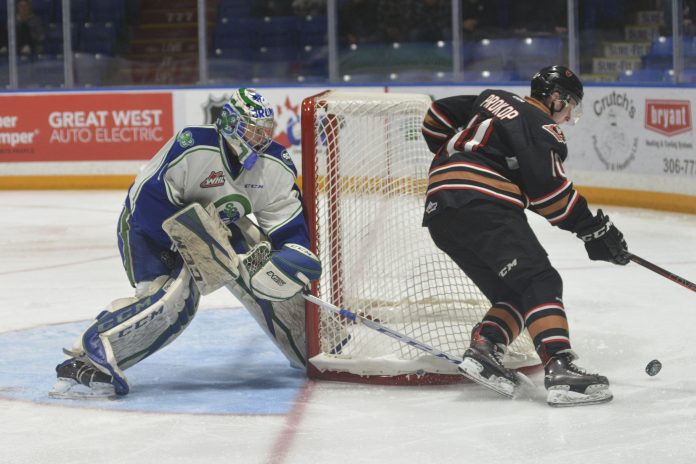 The Swift Current Broncos were unable to skate with the Calgary Hitmen in a 6-1 loss on Saturday.
The Hitmen got goals from six different skaters, four assists from Carson Focht, and finished three-for-six on the man-advantage.
The Hitmen took a quick lead with goals 58 seconds apart from Luke Coleman and Devan Klassen. Joona Kiviniemi got the Broncos back into the game with a power play goal midway through the first period for his 15th goal of his rookie campaign.
The Hitmen took control of the game in the second period with power play goals 22 seconds apart on a four-minute power play. Former Bronco Kaden Elder scored his 24th and then Ryder Korczak added his seventh goal seconds later.
The Hitmen added third-period goals from Jackson van de Leest and James Malm to close out the win.
Isaac Poulter had a tough outing to fall to 2-16-1-0 after making 35 saves on 41 shots. Jack McNaughton made 22 saves to improve to 21-12-3-1
The Broncos fell to 10-42-3-2 with their 10th consecutive loss. Calgary improved to 31-22-5-1 to sit third in the Central Division.
The Broncos visit the Edmonton Oil Kings on Tuesday afternoon.