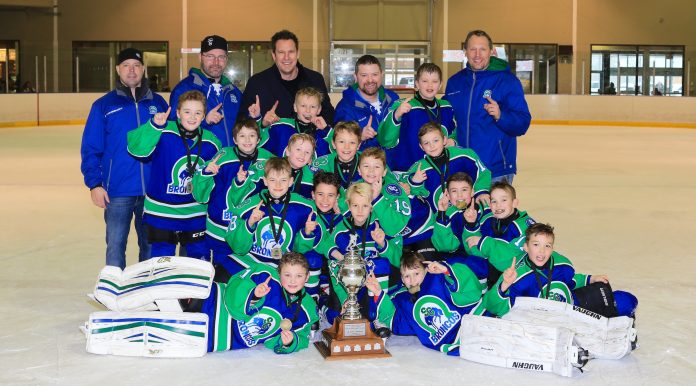 The Swift Current Tarpon Energy Tier I Broncos finished unbeaten in six games to win gold at the George Watson Atom A Classic in Regina over the weekend.
The Broncos finished with a 2-0-1 record in the round robin and then won all three games in the medal round to finish atop the 32-team tournament consisting of teams from Saskatchewan, Manitoba, and the Northwest Territories.
The Broncos opened the tournament with a 13-2 win over the Prince Albert Phantoms, followed by a 2-2 tie against the Saskatoon Flyer Fire and a 6-3 win over the Regina Royals. They opened the playoffs with a 5-1 win over Estevan.
The Broncos took on Yorkton in the semi-final and won for the first time in four attempts this season as Tate Leshures backstopped the team to a 2-0 victory. Daxer Schroeder and Mason Fauser scored with an assist from Griffin Darby.
The Broncos defeated the Saskatoon Redwing Thunder 8-5 in the gold medal game on Sunday. Schroeder led the Broncos with three goals and one assist, followed by two goals and one assist from Fauser and three assists from Levi Wills. Kasey Gleim added a goal and an assist, while Carter Moen and Kadyn Olfert also scored.
Darby, Hayden Winslow, Kyron Watson, and Paxton Wallace also added assists and Leshures picked up the win in goal.