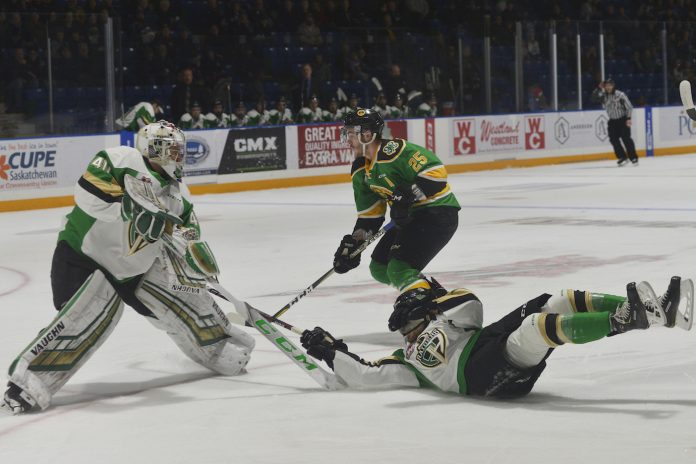 The Swift Current Broncos two-game home winning streak came to an end in a 6-4 loss to the visiting Prince Albert Raiders.
The Broncos had shocked the CHL leading Raiders with a shootout win on Dec. 4, but were unable to pull off a second straight upset in a fight-filled game on Friday.
The Raiders jumped ahead 2-0 in the first period. Carson Miller knocked home a rebound 8:32 into the game and Noah Gregor got behind the defense for a power play goal 2:27 later for his 17th goal of the season.
The two teams combined for three goals in the second period as the Raiders jumped ahead 4-1. Eric Pearce scored first to make it 3-0 Prince Albert. The Broncos got on the board 12:41 into the middle stanza when Joona Kiviniemi's weak wrist shot trickled through Raiders' back-up Donovan Buskey. Sean Montgomery scored while shorthanded to restore the three-goal lead.
The Broncos outscored the Raiders 3-2 in the final frame to make things interesting. Spencer Moe scored for the Raiders while shorthanded to make it 5-1.
Alec Zawatsky and Connor Horning scored 1:37 apart to cut the deficit to two goals, but Montgomery scored into an empty net with 1:04 remaining in regulation. Matthew Culling replied for the Broncos with 41 seconds left on the clock to close the scoring.
The game featured five fights, including two apiece from Broncos' overages Tanner Nagel and Matthew Stanley.
The Raiders were one-for-two on the power play, while the Broncos finished two-for-seven on the man-advantage. The Raiders lead the WHL with a 90 percent success rate and have actually outscored their opposition while shorthanded with 17 goals for and 16 against.
Joel Hofer made 30 saves to fall to 4-18-1-1. Buskey stopped 22 shots to improve to 7-6-0-0 for the Raiders.
The Broncos dropped to 6-24-1-1, while Prince Albert improved to 30-2-0-1 to lead the Western Hockey League.
The Broncos will return the visit to Prince Albert on Saturday in their final game prior to the holiday break.