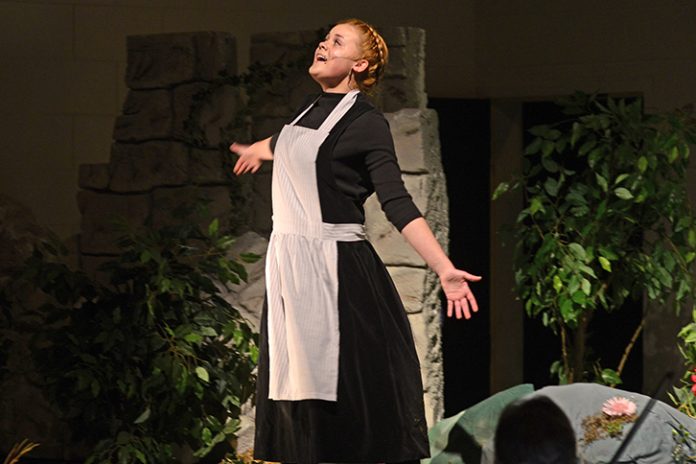 Members of the Swift Current Comprehensive High School Fine Arts Department are putting the final rehearsal touches on their roles this week before they raise the curtain on a five performance run of The Sound of Music on December 5.
The full cast, pit orchestra, and crew held their first dress rehearsal on November 25, as they complete their final technical rehearsals in advance of their upcoming five shows.
Rehearsals to put on Rodgers and Hammerstein's The Sound of Music have been held this entire school year, with the principle performers selected for their parts at the end of this past school year.
And performing such an iconic production as The Sound of Music, which had its motion picture debut back in 1965, is a challenge not lost on the performers.
"I feel like there's a lot of pressure just because it's one that so many people know. It's really a classic. It's a lot more work than the average playwright that a lot of people don't know about. So its been very difficult, but I think it'll be worth it in the end," explained Eliza Switzer, who is tackling the lead role of Maria.
"When you're trying to compare yourself to names like Julie Andrews and Christopher Plummer, it's a lot," she added.
"We have a real difficult job of living up to the expectations of the characters that we have, while also being able to do our own acting. It's another challenge with the production, but it is one that we have been able to do pretty well I think," said Grade 12 actor Jonathon Grant who is in the role of Captain von Trapp.
"This is probably the biggest role I've ever been in, and I've had to do a lot of work for this. Its been difficult. Its been really stressful. But I've been putting 110 per cent into this."
Emmanuel Appiah, who is performing the Max Detweiler character, has been impressed with the efforts of the entire cast, crew, and pit orchestra in putting on the musical.
"We have a really great group to work with and we've become more confident with each other," he said.
"This is just so much more than the average play because you have to get the singing involved. And even having headsets, I don't think any of us have had to wear headsets before in a play, so even that's an added difficulty," added Switzer. "Its been really nice to see the whole fine arts department in our school come together for this. And I've met a lot of new people, which has been awesome."
After an extended rehearsal period, they are now nervously awaiting their performance debut.
"Honestly, just getting the first performance jitters out of the way and hopefully doing well. I think the first performance is always the most stressful one and nerve wracking because you're not used to it yet. By the last show hopefully it'll be a bit of a breeze and we'll just all feel better and not be as nervous," Switzer said.
"I just think the more we do it the more confident we feel, so I'm just excited for that," Appiah noted.
"Nailing that first performance is huge because then that's a confident booster. And once you get that out of the way then you can work on other things and make it better and better as the week goes on," Grant added.
The Sound of Music runs from December 5 to December 8 at the SCCHS Cafetorium, and advance tickets are on sale at Pharmasave.
Doors open for the Wednesday, Thursday, Friday, and Saturday night performances at 6:30 p.m., with the show starting at 7 p.m.
There is also a Saturday, December 8 matinee show at 2 p.m., with doors opening at 1:30 p.m.