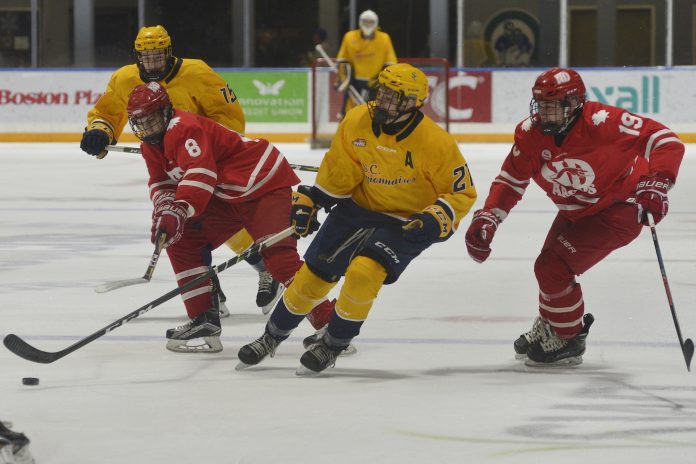 The Swift Current Home Hardware Legionnaires played three Saskatchewan Midget AAA Hockey League games in as many days over the weekend and emerged with five of a possible six points.
Friday, the Legionnaires scored early and often in a 7-1 win over the visiting Notre Dame Argos. Seven different players scored, led by a goal and two assists from Reed Jacobson.
Chase Gallant, Maguire Scheidt, and Mason Strutt each added a goal and an assist. Riley Dekowny and Kaedan Watkins both chipped in a pair of assists. Logan Linklater, Boston Bird, and Blake Rasmuson also scored. Hendrik de Klerk, Lucas Ochitwa, Hunter Larocque, Jaxon Martens, and Rhett Evjen all added single helpers.
Ethan Hein earned the win with 25 saves on 26 shots.
Michael Neumeier scored the only goal for the Argos, while Ruben Cooper took the loss with 10 saves on 15 shots over 14:14. Cedric Rechsteiner stopped 22 of 24 shots over the final 45:46.
The Legionnaires added another seven goals in Saskatoon on Saturday during a 7-4 win over the Saskatoon Contacts.
Strutt led the Legionnaires with three goals and one assist, followed by a goal and two assists from Jacobson and two assists from Linklater.
Joe Arntsen, de Klerk, and Bird also scored. Gallant, Kersey Reich, Scheidt, and Kaedan Watkins all added assists.
Jacob Herman allowed four goals on 22 shots over two periods. Hein stopped all 14 shots he faced in one period of action.
Sunday, the Legionnaires lost 2-1 in a shootout to the league leading Saskatoon Blazers. Jacobson scored for the visiting Legionnaires in the second period with an assist from Bird. Zach Gabruch tied the game in the third period with a power play goal for the Blazers.
Josh Nagy scored the only goal of the shootout to lift the Blazers to the win.
Hein made 29 saves for the Legionnaires in the loss.
The Blazers continued to lead the league with a 20-6-0-1 record, while the Legionnaires were third with a 16-5-1-0 mark.
The Legionnaires will host the Contacts (11-9-0-0) on Saturday at 8 p.m. and Sunday at 1:45 p.m.