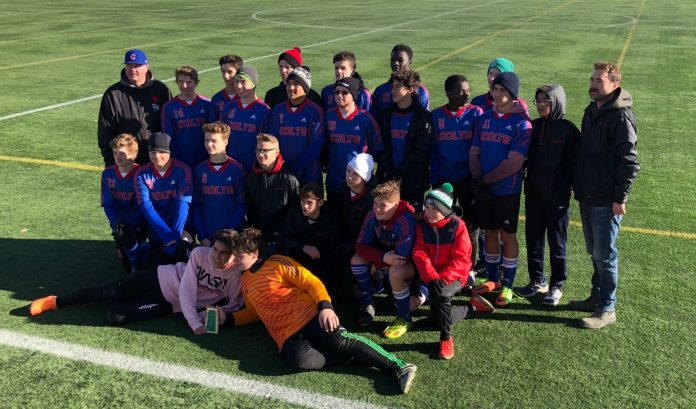 Three Southwest high school soccer teams concluded their seasons at SHSAA Provincials over the weekend.
The Swift Current Comp. Colts had the highest finish as they won their opening game to place fourth at 3A Boys Provincials in Saskatoon.
The Colts trailed the Saskatoon Aden Bowman Bears 2-0 in the opening match, but came back to win 3-2. Felix Danquah scored twice and Marcos Dominguez added a single in the victory.
The Colts dropped the semi-final 1-0 to Warman.
The Colts were doubled up 4-2 by the Prince Albert Carlton Crusaders in the bronze medal match on Saturday morning. Danquah and Joel Reimer scored in the loss.
The Herbert Laurels won the consolation side at 1A Boys 7v7 Provincials in Lake Lenore.
The fifth seeded Laurels lost their opening game 3-2 to Osler VCA. They bounced back to defeat Lanigan 6-4 and then topped Maymont 4-2.
The Swift Current Comp. Ardens won one game to place sixth at 3A Girls Provincials in Prince Albert.
They were eliminated from medal contention in an 8-0 loss to Saskatoon's St. Joseph Guardians, who went on to win a second straight provincial title.
The Ardens rebounded that afternoon with a 4-1 win over the host Prince Albert Carlton Crusaders. Jannae Carlson scored the Ardens' first three goals, while Allison Wall scored the final goal. Jasmine Temoshawsky picked up the win in goal.
They concluded the tournament with a 6-3 loss to Regina Campbell. Jannae Carlson, Katrina McGuire, and MJ Anderson all scored in the loss. Juliana Whalen took the loss in goal.