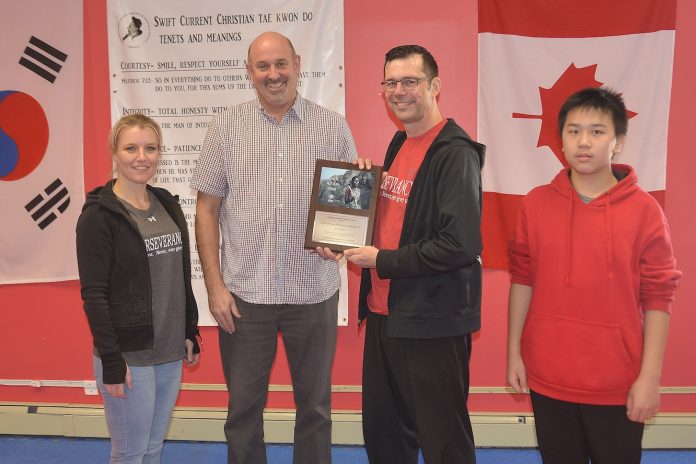 Swift Current Christian Tae Kwon Do was recognized this week as the top fundraising club in North America for a third straight year for their Breaking Boards, Breaking Chains fundraising initiative.
The local club raised a club record total of approximately $15,000 to help International Justice Mission fight sex trafficking.
"For me it's just really impressive. I think it's great that it's affecting so many young people as well," said IJM Director of Development and Mobilization, David Pollendine, who traveled to Swift Current to present the award. "People don't realize, we live in a bit of a bubble in the west generally, not just in Canada, that there are, according to the UN, four billion people living outside the protection of the law. We take for granted that if we've got a problem we dial 911, but for four billion people that's not the reality, they're not protected. I think for young people to have that awareness through raising money for projects that we do in India, for example, is absolutely fantastic. It's a whole generation growing up with that knowledge that there are 43 million people in slavery around the world and they're doing something about it. It's really educational and it's strategic for the future. I think it's great for the next generation here."
"Yeah it was recognition I think my students really deserve. They work hard for it and I am proud of each and every one that stepped up to make a difference," said Gary Voysey, Swift Current Christian Tae Kwon Do Chief Instructor.
The funds raised in Swift Current will be used for IJM's effort in Calcutta, India.
"It's going to go towards sex trafficking in Calcutta and minors in what is the sex industry," said Pollendine. "It goes into rescuing and restoring young people. You rescue them but they still have that emotional baggage that needs to be restored. That's an important part of it, they're not really free until they're restored. Then actually arresting the perpetrator and bringing them to justice is also part of the restoration because it brings closure, ultimately transforming the justice system. That money will go straight into that process that we call our transformation model. It's basically a challenge to rulers. I think at IJM we see it is a prophetic ministry to rulers to say you need to look out for the poor, look out for the downtrodden, the widow, as the bible teaches. So that money will go straight to those projects in Calcutta."
"I think honestly it's just the belief that we're making a difference. The money doesn't go to a club to buy shirts or anything, it is actually is going to help human beings in different parts of the world in dire situations and I think people really buy into that," said Voysey of the club's continued success, heading into a sixth-year of fundraising.
Read a future edition of the Southwest Booster for the complete story.