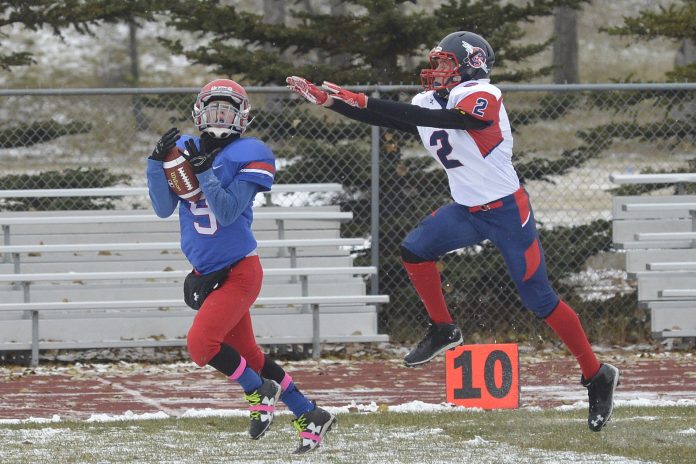 The Swift Current Comp. Colts scored early and often to advance to the Moose Jaw High School Football League semi-final.
The host Colts scored the opening 28 points en route to a 69-22 victory over the visiting Estevan Elecs in the quarter-final game on Saturday. The Colts led 42-6 at halftime and cruised to the victory behind a robust running attack that finished with 205 yards along the ground.
The Colts got touchdowns from eight different players, including Ethan Kurtz, who also kicked four field goals and seven extra points to go along with an interception.
Running back Jordan Lamontagne led the Colts with one touchdown and 119 yards rushing on nine carries. Shane Friesen carried the ball eight times for 81 yards and one touchdown.
Dylan White, Kayden Dudley, Rhett Vavra, Nolan Klein, and Austin Beverly-Collins also found the end zone.
The cold weather and snow caused a few turnovers as the Colts lost two fumbles and were intercepted once.
The Colts defense recovered two fumbles and intercepted two passes as well. The defense held the Elecs to five first downs on 209 yards of total offense. The Elecs ran for 199 yards, but were only able to gain 10 yards on three-of-14 passing.
The third seeded Colts will now face the second seeded Moose Jaw Central Cyclones on Saturday in Moose Jaw.