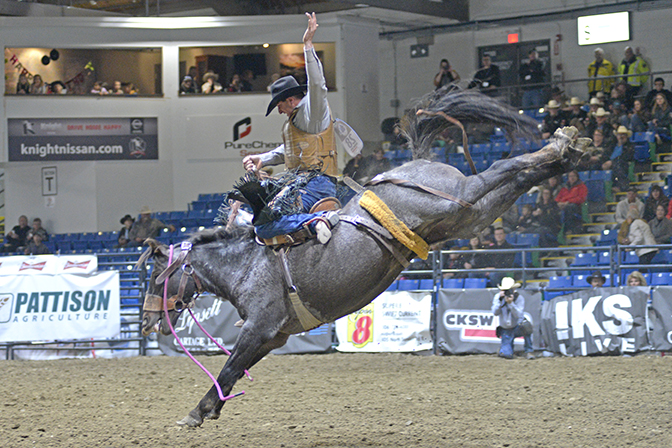 A total of 31 different Southwest competitors will take part in the Canadian Cowboys Association Final in Swift Current next week.
The hometown crowd at the Innovation Credit Union iplex will have plenty to cheer for with at least one Southwest competitor in all 12 events.
The Southwest communities of Piapot, Swift Current, Maple Creek, Consul, Hazenmore, Lancer, Mankota, Lucky Lake, Waldeck, Val Marie, Eastend, and Shaunavon will all be represented at the Finals Rodeo. Maple Creek leads the way with nine competitors headed for Swift Current, including four of six spots in Junior Girls Barrel Racing.
Amongst the top cowboys to watch will be Hazenmore's Chanse Switzer, who finished fourth in the All-Around standings this season. He will compete in both Bull Riding and Team Roping at the Finals.
Waldeck's Tee McLeod finished fifth in the Canadian High Point Award standings this season. He will be flying back from college in New Mexico to take part in Steer Wrestling and Team Roping.
Tee will rope with his father, Scott McLeod, who won the Team Roping Heeler season title and will take part in his 31st consecutive Finals. Tee and Scott are the defending Team Roping Finals champions.
Tyce McLeod won the Tie Down Roping season title and Tuftin McLeod topped the Team Roping Header standings but they will both be roping in the CPRA Finals, making them ineligible for the CCA Finals.
Maple Creek's Janae Wilson led the Junior Girls Barrel Racing season standings, but will be pushed by Logan Resch, Cassidy Gordon, and Lily Wilson,
Maple Creek's Blake Link also won the season title in Novice Bareback in 2018.
The CCA Finals will begin on Wednesday with the Novice/Junior Rodeo at 12 p.m. and the regular performance at 7 p.m.
2018 FINALS CONTESTANTS
SADDLE BRONC
Colt Smith, Aldersyde, AB
Casey Bertram, Piapot
Lucas Macza, High River AB
Timothy Costello, Swift Current
Lachlan Miller, Lestock
Kole Ashbacher, Arrowwood, AB
Chase Zweifel, Paradise Hill
Wyatt Thurston, Big Valley, AB
Mike Gordon, Maple Creek
Coleman Watt, Hardisty, AB
Adam Gilchrist, Maple Creek
Brodie Dinwoodie, Brandon, MB
BAREBACK
Bailey Plaiser, Oak Lake, MB
Brady Bertram, Maple Creek
Kyle Johnson, Bemidji, MN
Danny Vandenameele, Langenburg
Travis Heeb, Australia
Lane Ferguson, Stirling, AB
Monty Koopman, Consul
Cassien Haudegand, Cadogan, AB
Calder Peterson, Glentworth, SK
Buck Moen, Elrose
Brett Williams, Stavely, AB
Brian Schira, Martensville
BULL RIDING
Quinten Taylor, Parkland, AB
Chanse Switzer, Hazenmore
Lonnie Phillips, Elko, BC
Tyson Thue, Bengough
TJ Loeppky, Central Butte
Sean Clark, Coppersands
Landon Schmidt, Tofield, AB
Hayden Briggs, Maple Creek
Jeffrey Hudson, Nanton, AB
Ron Hunt, Nanton, AB
Cole Hartman, Lancer
Chad Hartman, Lancer
TIE DOWN ROPING
Scott Sigfusson, Davidson
Bruce Dunham, Indian Head
Shawn Williamson, Mankota
Kevin Dunham, Souris, MB
Justin Bridgeman, Binscarth, MB
Lance Gordon, Crossfield, AB
Ory Brown, Kenton, MB
Shane Brown, Virden, AB
Jeff Heggie, Cardston, AB
Matt Switzer, Yorkton
Tyler Getz, Lucky Lake
Cody Rood, Bengough
STEER WRESTLING
Scott Sigfusson, Davidson
Jeff Heggie, Cardston, AB
Justin Miller, Neepawa, MB
Tee McLeod, Waldeck
Riley Hayes, Val Marie
Kal Klovansky, Qu'Appelle
TJ Loeppky, Central Butte
Devon Porter, Moosomin
Travis Munro, Qu'Appelle
Dusty Caragata, Swift Current
Trace Nickolson, Taber, AB
Avery Brigden, Oak Lake, MB
TEAM ROPING(F)
Scott McLeod, Waldeck
Jim-Bob Gomersall, Moose Jaw
Kyle Chappel, Gravelbourg
Jeffrey Eberts, Lumsden
Jared Pancoast, Cypress County, AB
Michael Smith, Raymond
Tanner Jones, Maple Creek
Connor Box, Corning
Brady Chappel, Moose Jaw
Shane Brown, Virden, MB
Shawn Williamson, Mankota
Ben Switzer, Hazenmore
TEAM ROPING(H)
Ty Paton, Carnduff
Tee McLeod, Waldeck
Kevin Turner, Shamrock
Dustin Cromarty, Regina
Dalton Kraft, Irvine, AB
Travis Kellett, Picture Butte, AB
Taylor Wudrich, Bow Island, AB
Ian Box, Corning
Lonnie Brown, Virden, MB
Wyatt Stuber, Redcliff, AB
Blaine Switzer, Swift Current
Chanse Switzer, Hazenmore
LADIES BARREL RACING
Jordan Fitzhenry, Coaldale, AB
Dana Lovell, Seven Persons
Krystal Grad, Gravelbourg
Jacey Crossley, Moosomin
Jennifer Getz, Balgonie
Chloe Crossley, Moosomin
Bailee Humphrey, Eastend
Calonna Slade, Lestock
Robbi Keller, Rockglen
Haley Glasrud, Shaunavon
Rylee Wilson, Gleichen
Kassidy Williamson, Mankota
JUNIOR GIRLS BARREL RACING
Janae Wilson, Maple Creek
Logan Resch, Maple Creek
Kaybree Zunti, Unity
Cassidy Gordon, Maple Creek
Lily Wilson, Maple Creek
Kayce Liptak, Taber, AB
JUNIOR STEER RIDING
Kegan Kmita, Weyburn
Kade McDonald, Melville
Kobe Kmita, Weyburn
Gage Hillis, Lloydminster
Beau Gardner, Arrowwood
James Perrin, Maple Creek
NOVICE BAREBACK 
Blake Link, Maple Creek
Cruz McNulty, Biggar
Casey Bear, Whitewood
NOVICE BULL RIDING 
William Barrows, Foremost, AB
Colt Kornfeld, Val Marie
Stefan Tonita, Saskatoon
NOVICE SADDLE BRONC 
Chance Sjogren, Big Beaver
William Perrin, Maple Creek
Kaden Paton, Carnduff.