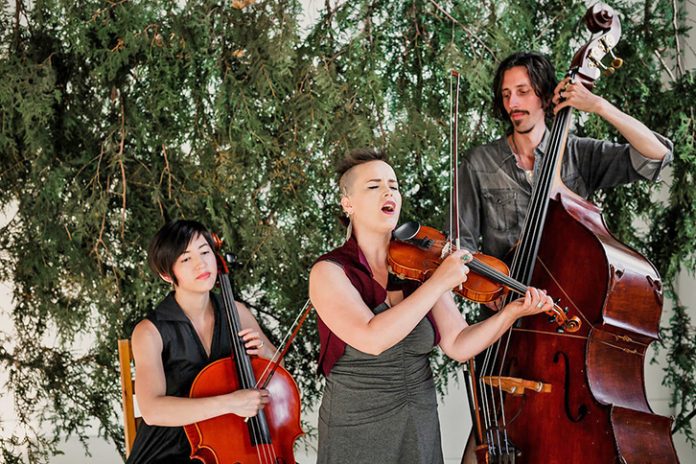 Swift Current concert goers will have a unique opportunity to both hear and see an interpretation of Raine Hamilton's music tonight at the Living Sky Casino Event Centre.
The Raine Hamilton String Trio is performing Friday, October 5 as the second feature in the 2018-2019 Stars for Saskatchewan concert series hosted by the Swift Current Arts Council.
What makes tonight's concert unique is that the three musicians tonight will be joined on stage by a pair of American Sign Language Interpreters.
Hamilton said that after doing her first concert with ASL interpretation in 2017, she was hooked on this method of making music more accessible to audiences.
"The main goal absolutely is increased accessibility for members of the deaf community who want it. And then it's just kind of like an added bonus that is also beautiful and appreciated by a hearing audience. It for sure takes nothing away," Hamilton explained before tonight's concert.
"I believe that art is for everyone. Music is for everyone. And wherever I can I want to contribute to taking down barriers and to increasing access."
The Raine Hamilton String Trio is currently on the fifth concert of a six date tour through Saskatchewan, and the have had a wholly positive reaction from audiences.
"The reaction to the ASL interpreted shows has been awesome. We've had really positive feedback from the deaf and hard of hearing communities who use that language.
"Hearing audiences also appreciate it on a few levels I think because it is beautiful. It is beautiful to watch the expression in a visual and physical way."
Hamilton will be joined on stage by Natanielle Felicitas on cello, Quintin Bart on double bass, plus two ASL interpreters who work as a team.
The evening will primarily feature material from Raine Hamilton's new album Night Sky, released back in March.
"In the album we hear imagery of the night sky just appear again and again, so that's where I pulled that title from. So we will be singing a lot about the night. We also sing a lot about the prairies and the open and vulnerability of what that teaches. It comes up a lot in my writing."
Hamilton noted the new material differs from the sound on her 2015 debut release Past Your Past.
"We went deeper. There are more string arrangements and they are even more in-depth. So we were very detail oriented in our arrangement of these tunes. And they are all like that. So they are all just meticulously through through and considered."
The material on the album meshes chamber music with deeply personal and emotional lyrics.
"The work that I present is often very vulnerable. And for me it feels like shining a little flashlight to different parts of myself. And I'm very willing to go to the rough and beautiful places of life. So I'll sing about all kinds of human experience."
"We'll just connect with so many experiences of being alive, and it's a powerful thing."
Her sound blends a singer songwriter sensibility in the style of Joni Mitchell or Sarah Harmer, with a string quartet backing.
"String music is just my favourite. I saw Itzhak Perlman's string quartet on Sesame Street when I was three years old, and I just never looked back. So this is a sound so close to my heart."
"We've arranged these songs with kind of a string quartet feel in mind, so really informed by that genre, using a lot of the textures and approaches of string quartet competition. So you'll hear a lot of intricate string parts, a lot of trading back and forth."
Tickets for tonight's 7:30 p.m. concert at the Living Sky Casino's Event Centre are available at the door.